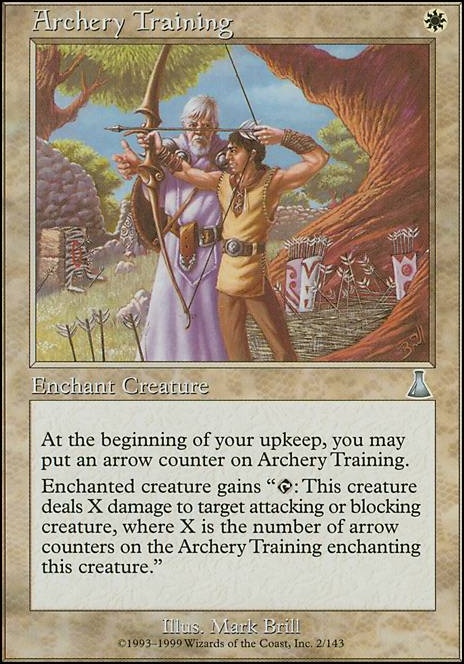 Legality
| | |
| --- | --- |
| Format | Legality |
| Noble | Legal |
| Leviathan | Legal |
| Magic Duels | Legal |
| Canadian Highlander | Legal |
| Vintage | Legal |
| Penny Dreadful | Legal |
| Vanguard | Legal |
| Legacy | Legal |
| Archenemy | Legal |
| Planechase | Legal |
| Duel Commander | Legal |
| Unformat | Legal |
| Casual | Legal |
| Commander / EDH | Legal |
Archery Training
Enchantment — Aura
Enchant creature
At the beginning of your upkeep, you may put an arrow counter on Archery Training.
Enchanted creature has "Tap: This creature deals X damage to target attacking or blocking creature, where X is the number of arrow counters on Archery Training."
Archery Training Discussion
2 years ago
Shadow Creatures... I had a mono-white Shadow deck back in the day that wrecked. Check this out,
T2: Archery Training, Flickering Ward
T3: Empyrial Armor
T4: Serra's Blessing
They can't block or target your creature (pretty much) and you can pick off their attackers with Archery Training. I also ran a lot of bull like Story Circle, and Scent of Jasmine, but Magic was a different game back then...
I don't play EDH, but I've always thought that I want to make a deck that uses Mogis, God of Slaughter as it's Commander.
I love meta breaking brews that aren't supposed to work but do. I have a devil deck that has proven to be the experience you talked about called Sinful Devils that got everybody talking at FNM last week. The people I beat and the people that beat me were excited that I was playing the cards that I had together. There were many dynamic moments that put the decisions in your opponents hands, and it sounds like a deck you may enjoy.
In fact, that was reason I came here was to tell you about that deck since you had mentioned Impact Tremors on my Modern Goblins. I read your introduction and basically everything you said hit home. Very cool.
Also, Squirrels.