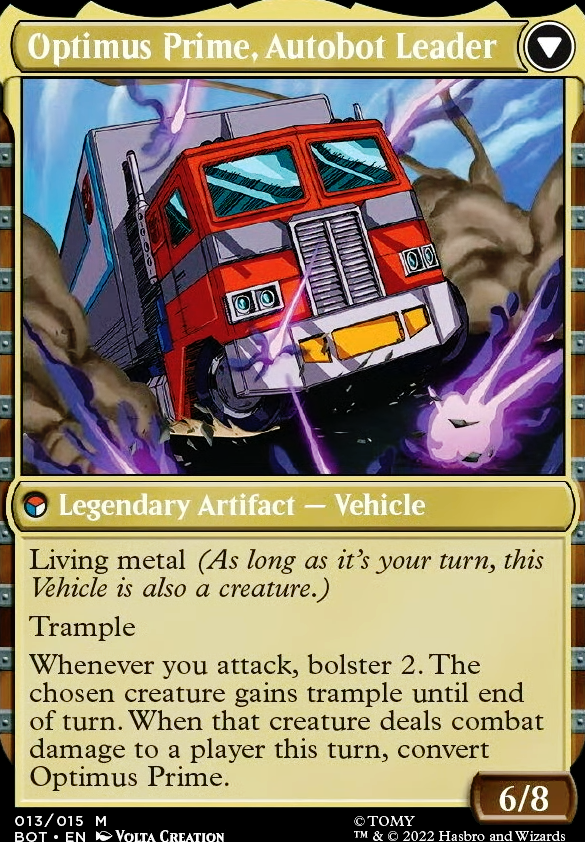 Front:
Optimus Prime, Hero
Flip
Legality
Optimus Prime, Autobot Leader
Legendary Artifact — Vehicle
Living metal (As long as it's your turn, this Vehicle is also a creature.)
Trample
Whenever you attack, bolster 2. The chosen creature gains trample until end of turn. When that creature deals combat damage to a player this turn, transform Optimus Prime. (Choose a creature with the least toughness among creatures you control and put two +1/+1 counters on it.)
5 months ago
Hey, you're welcome.
What is your budget for making upgrades? There's tiers of price for lands to consider adding. I would add all these lands if you can.
Fetch lands are expensive price lands, but they let you better use your best lands Volcanic and Tundra.
A Fetch land can search for one of these lands and put it onto the battlefield. The Shock lands are the lesser price, but still expensive alternative to Volcanic and Tundra type lands.
---
You're right, convert is identical to transform, but Optimus Prime, Hero  Flip doesn't convert normally, it first dies which leaves the battlefield then returns converted. Because Optimus leaves the battlefield then when it returns it's a new object that doesn't recognize the previous Optimus, it will have summoning sickness. If you sac to convert Hero during your turn you will need a haste source for Optimus Prime, Autobot Leader  Flip to attack.
When Leader converts Optimus doesn't leave the battlefield, Hero won't have summoning sickness and keep it's counters. Another reason, that if you can, always put the +1/+1 counters on Leader because when Hero leaves the battlefield the counters go away. Hero is leaving the battlefield much more than Leader. In fact, you can control it so that Leader doesn't convert by not attacking with the lowest toughness creature you control. When Leader attacks you bolster 2 that creature, but that creature has to do combat damage to a player to convert Optimus and it can't do that if it didn't attack.
This why I suggested to sac convert Hero during an opponent's turn because then Optimus leaves the battlefield and returns. It's not on your turn though thus summoning sickness doesn't matter. On your next turn you can attack with Leader.
5 months ago
Hey, good version so far and nice Transmute Artifact. It's crazy only three cards here make up $1700+ of the $2k deck price.
Your deck doesn't have a Commander. In the deck editor where you see text list of the cards add CMDR to the end of Optimus?
Optimus Prime, Hero *CMDR*

When you save and return to your deck Optimus will be the Commander with it's own category and card image.
---
Definitely find room for Zabaz, the Glimmerwasp since it does a lot for a 1 drop. Zabaz + Optimus Prime, Autobot Leader  Flip is honestly all you really need since the little bug does it all. Modular and being a repeatable sac outlet for Optimus Prime, Hero  Flip is excellent. It can sac itself to then put all it's counters on Optimus Prime, Autobot Leader  Flip for a huge attack of lethal Commander damage to an opponent. It being a sac outlet for Optimus Prime, Hero  Flip is what makes it powerful.
Animation Module can be part of a combo for infinite counters on all creatures you control and infinite Servos with Ashnod's Altar + Cathars' Crusade. The only problem with this combo is Crusade is an enchantment, not an artifact. Without having tutors to get Crusade it could be difficult to assemble. If you add Crusade then enchantment tutors would help.
Some cards here to consider cutting for these:
Because of bolster and other counter sources then the small +1/+1 anthem effect is not really needed from Chief of the Foundry or Master of Etherium. You have three better creatures here who protect artifacts, Bronze Guardian is not needed. Arcbound Crusher could simply be cut for a better modular creature? Towashi Guide-Bot at 4 mana is too much for what you get. Yes, it could be repeatable draw, but you have to tap it to draw only once. It is good with Unwinding Clock, but without Clock it's subpar.
---
Before I make other card suggestions, what is your budget for making upgrades? You have some of the most expensive price cards in Magic here, but you also have some of the worst budget lands thus I don't know what to think. Some areas to consider expanding on are ramp and sac outlets? Ramp to make it easier to cast Optimus and sac outlets to abuse Optimus Prime, Hero  Flip convert. 9 sources of ramp is low when Optimus is 5 or 6 mana.
Optimus Prime, Hero  Flip has to die to convert, having some sources to sac him can be helpful and also give lots of value. Sac outlets let you repeatedly use both sides of Optimus and they help to get around having to cast 6 mana Optimus Prime, Hero  Flip. Instead, More Than Meets the Eye for Optimus Prime, Autobot Leader  Flip which can be even less than 5 mana with any effect that reduces artifact casting cost.
To get around summoning sickness you want to be able to sac Optimus Prime, Hero  Flip on an opponent's turn. If you sac Optimus Prime, Hero  Flip on your turn then when it returns to the battlefield it has summoning sickness, can't attack without haste. This isn't as bad if you have another creature to attack + bolster because Optimus Prime, Autobot Leader  Flip itself doesn't have to attack to convert, but still you want to be attacking with trampling Optimus Prime, Autobot Leader  Flip doing Commander damage.
If you're interested I offer more advice when I get a better idea what your budget is for upgrades. Would you like more advice?
Good luck with your deck.