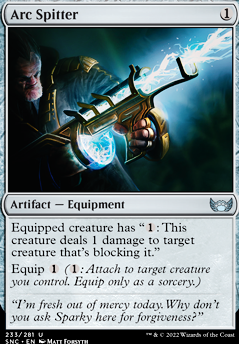 Legality
4 months ago
Sorry I was the bearer of bad news, otherwise Halvar would be very strong in her.
But the changes you've made look very good and should speed up your game a bit or make it more consistent.
I found two creature cards that might fit your theme: Thornweald Archer has deathtouch, which works great with Arc Spitter.
Stalking Leonin removal for heavy creatures.
And Kindred Summons could work in her, but the cmc is a little bit high.
As you mentioned turbo comdo decks are your problem, maybe Deafening Silence or Silence helps?
White has some annoying ways taxing there opponents or even prevent them from casting spells, which comes in handy against combo decks. Aura of Silence/Authority of the Consuls/Smothering Tithe
5 months ago
They're not going to block your creature with an indestructible one if you have that combo assembled. Arc Spitter is really not a great card. But you seem to like it, so I won't push further.