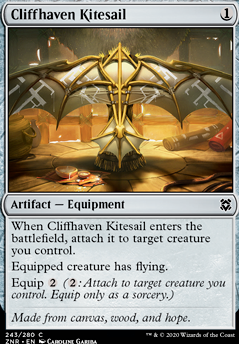 Legality
6 months ago
BigTurkey having played a lot with Goblin Gaveleer, I ended up favouring quantity over quality. Other than Colossus Hammer (which imo you need 4-of), i'd suggest:
The deck i used to run had around 20 equipments, and then around 18 lands, 18 creatures. That left it no room for interaction, which was very scary, but did let it consistently win by around turn 3 uninterrupted.
1 year ago
Version 2.4. Zendikar rising draft best picks. -Pious Interdiction, +Luminarch Aspirant // -Tidings, +Field Research // -Sigiled Starfish, +Glasspool Mimic  Flip // -Bone to Ash, +Jwari Disruption  Flip // -Toll of the Invasion, +Malakir Rebirth  Flip // -Scalding Cauldron, +Cliffhaven Kitesail // -Rampaging Rendhorn, +Scute Swarm // -Leafkin Druid, +Lotus Cobra // -Fierce Witchstalker, +Oran-Rief Ooze // -Gift of Paradise, +Reclaim the Wastes // -Chandra, Novice Pyromancer, +Inordinate Rage // -Bloodthirsty Aerialist, +Hagra Constrictor.