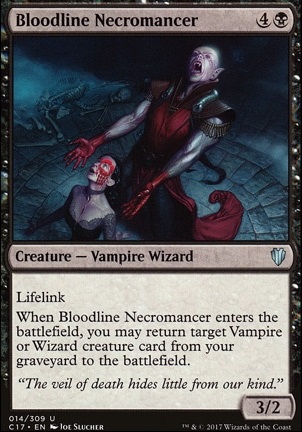 Legality
| | |
| --- | --- |
| Format | Legality |
| Tiny Leaders | Legal |
| 1v1 Commander | Legal |
| Magic Duels | Legal |
| Canadian Highlander | Legal |
| Vintage | Legal |
| Leviathan | Legal |
| Legacy | Legal |
| Duel Commander | Legal |
| Casual | Legal |
| Commander / EDH | Legal |
Bloodline Necromancer
Creature — Vampire Wizard
Lifelink
When Bloodline Necromancer enters the battlefield, you may return target Vampire or Wizard creature card from your graveyard to the battlefield.
Have (7)
Unjust_DiabIo , angesoir , killstars , Reliva , MagnaAura , brentkc49 , rikertchu
Want (9)

G

o

l

d

G

h

o

s

t

0

1

2

, coadster , buildingadeck ,

m

e

t

a

l

e

v

o

l

e

n

c

e

, LeRandomNoob , masterglencour , pelzee , hgualtieri425 , mattlovet
Bloodline Necromancer Discussion
2 weeks ago
@DrkNinja
Thank you for your input, you have gave a lot of tools to think about
Things you don't like and I do
Land Tax
is not really meant for mana screw (but trust my bad luck I had suffer it in this deck despite the low cmc), I play this card with
Scroll Rack
just to draw 3 extra cards a turn.
Umezawa's Jitte is -1 a versatile machine, and remember that the creature equipped with the Jitte does not need to connect to get the counters, it just needs to do combat damage, the -1-1 ability is the one I use the most for removal, the +2 life gain is not to be taken lightly
Torment of Hailfire is like a finishers for me, torment for 10 is nuts unless they have tokens, you can wreak their life totals or board presence
Things you like and I do also
Anointed Procession I played the card several times, it just wont last in the table, people look at that and inmediately gets the fear of Doubling Season, doubling is much more powerfull and the decks who abuse the enchant gets a lot more than our deck for annointed, but for some reason people just trash it out.
If I play a 4cmc enchant and then I do nothing , and it gets removed I just lost a turn, we cant afford that, thats why I remove it, but I love the card tough
3 months ago
Have you considered Ashnod's Altar with Bloodline Necromancer as another wincon?
P.S. Thanks for the high-five on my decks earlier, just returned the love. Cheers :)
3 months ago
Crackling Doom, Mortify, Vindicate, and Utter End are all really good removal, and I would suggest some of them instead of Fire Covenant, Nameless Inversion, or the counterspells, which kinda seem a little out of place in a vampire tribal deck?
Legion's Landing, Blade of the Bloodchief, and Radiant Destiny are fun for the tribal help.
Patron of the Vein is removal, and continues to buff all your vampires. bloodline necromancer and Bishop of Rebirth are useful recursion, and Bloodlord of Vaasgoth and Necropolis Regent are just real nice for makin big dudes.
Really cool deck! Check out my Russian Vampire Mafia, it's cool to see how decks with the same commander and idea can feel so different sometimes.
3 months ago
usaDiabetic I've updated the description. 30-35 lands is as trim as it can go, haha!
It is true that once there are more than 3 opponents this kind of strategy faces greater opposition. I've played most often with 1-4 opponents but 4, 5, or more opponents would be trouble!
To be fair to the deck, the card draw of Herald's Horn, Skullclamp, The Immortal Sun, Vanquisher's Banner, Asylum Visitor, Champion of Dusk, Dusk Legion Zealot, Forerunner of the Legion, Twilight Prophet, Dark Prophecy, Necropotence, Phyrexian Arena and reanimation of Victimize, Patriarch's Bidding, Living Death, Bloodline Necromancer help sustain after board wipes.
Enough creatures have excellent effects as well to benefit from being knocked out including Kheru Bloodsucker, Paladin of Atonement, Elenda, the Dusk Rose, Kalastria Highborn, Pawn of Ulamog, Voldaren Pariah Flip, Bloodghast, Oathsworn Vampire, Viscera Seer, Blood Artist, and Falkenrath Noble.
And for disruption/removal there's New Blood, The Immortal Sun, Voldaren Pariah Flip, Vampire Hexmage, Thief of Blood, Patron of the Vein, Captivating Vampire, Bloodhusk Ritualist, Gatekeeper of Malakir, Guul Draz Assassin, and Bishop of Binding.
I'm open to suggestion though. Any other removal options you might recommend?
4 months ago
I recommend Sanguine Bond, Exquisite Blood, Command Tower, Tainted Sigil, Sol Ring, Orzhov Signet, Isolated Chapel, Batwing Brume, Beacon of Immortality, Congregate, Fetid Heath, Vindicate, Well of Lost Dreams, Chalice of Life Flip, Norn's Annex, Enlightened Tutor, Demonic Tutor, Urborg, Tomb of Yawgmoth, Vault of the Archangel, Godless Shrine, Marsh Flats, Blood Baron of Vizkopa, Crypt Ghast, Tithe Drinker, Mortify, Liliana of the Dark Realms, Debt to the Deathless, Exsanguinate, Blind Obedience, Legion Lieutenant, Anowon, the Ruin Sage, Captivating Vampire, Profane Procession Flip, Anointed Procession, Yahenni, Undying Partisan, Blood Artist, Bloodlord of Vaasgoth, Bloodline Necromancer, Bloodline Keeper

Flip, Drana, Liberator of Malakir, Viscera Seer, Vona's Hunger, Doom Blade, Path to Exile, Swords to Plowshares, Recover, Blood Tribute, Necromantic Summons, Razaketh's Rite, Blade of the Bloodchief, Ashnod's Altar, Cathars' Crusade, Sorin, Solemn Visitor, Sorin, Lord of Innistrad, Sorin, Grim Nemesis, Orzhov Basilica, Path of Ancestry, Scoured Barrens, Caves of Koilos, Shambling Vent, and High Market. (Reposted for links)
4 months ago
Vedi tu cosa togliere, se vuoi ti mando una lista di cosa toglierei io su whatsapp. Inoltre, secondo me, potresti considerare un paio di terre in meno, siccome la tua curva di mana, per come è adesso il mazzo, è molto bassa. Tu nel caso cambia qualche carta, e ricontrolla la curva, poi ti adegui di conseguenza.
4 months ago
This is my first commander deck I got a few months back and have built it up slowly but am in dire need of help finishing it. I know it is slow and probably bad but I like it and it suits me just fine. I like how it can focus on the graveyard but the only strategies I have for it is the Duskmantle Guildmage and Mindcrank set and the Sphinx's Tutelage. I want to focus it on wizards mill where my wizards can help me use my graveyard getting back my instants and sorceries that help mill and draw using Sphinx's Tutelge. Other creatures can be added like Consecrated Sphinx but i'd like for creatures to be mostly wizard. Any help is appreciated.
Commander: Inalla, Archmage Ritualist
Creatures:
Artifacts:
Enchantments:
Instants:
Sorcery:
Planeswalker:
Land:
Mountain x4
Island x10
Swamp x6
Load more