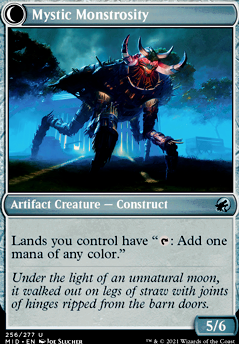 Front:
Mystic Skull
Flip
Legality
11 months ago
I had built my Karametra, God of Harvests with two main facets: The Landfall mechanic, and very massive creatures to put those lands to good use.
One clever trick you can do is loop Jeskai Barricade and Stonecloaker back and forth, bouncing each other. If you have an appropriate means of cost reduction, it becomes very efficient. For example, Oketra's Monument and Cloud Key would reduce their individual costs to a mere .
Each time one of these ETB, you bounce the other and tutor a Plains. If you have a means to have that Plains ETB untapped, or able to untap it, you can filter all of them from your library that turn. One method is Stone-Seeder Hierophant. Another is Amulet of Vigor.
These, in effect, allow you to cast Jeskai Barricade for just . Upon cast, you tutor a Plains. It ETB tapped and you either untap it with Amulet of Vigor or with Stone-Seeder Hierophant. From here, Jeskai Barricade ETB and you bounce Stonecloaker. Now, that Plains you just had ETB and got to untap can be tapped to add , allowing you to cast the Stonecloaker from your hand thanks to the cost reduction of Oketra's Monument and Cloud Key. From here, you tutor another Plains and repeat the whole process over again.
If you want lands that have , you can do this one of two ways:
Filtering into will assist you in getting green mana, but it won't allow you to tutor Forests.
However, what this will do is you can tutor Forest, and use the Forest to pay for to continue the combo mentioned above. If you do this, you can tutor every single land in your entire library in one single turn.
Unfortunately, Selesnya doesn't exactly have a means to give global haste. You'd want to rely on something such as Akroma's Memorial or something else. It gets pretty tricky and difficult and you're better off to try and secure the win via alt-wincon.
But, this whole setup is extremely flimsy. Just one piece being removed blows the entire combo up. Your table may not see what's going on the first one or two times, but they will catch on and the moment Jeskai Barricade drops for the first time, it'll be hit with a furious wave of removal. Once this happens, your entire deck is dead in the water.
That's why I no longer play Karametra. She definitely is a Timmy deck because she absolutely wants tons and tons of creatures slamming the field as quickly as possible... but she becomes super flimsy. Imagine getting 9 or 10 lands out by Turn 6 or 7. You drop something massive like a Desolation Twin and it gets hit with the first wave of removal. What happens is you become the biggest threat at the table, even when you have literally nothing. The reason this mentality sinks in is because your Commander has Indestructible, so most players are unequipped to handle her. Since her removal isn't an option, they hit your boardstate, instead.
You become a magnet for removal and hate, and you spend the rest of the game "catching up" and "doing nothing".
In my personal experience, she isn't fun to play because of this very reason. But... if you'd want to build her, that's how I did.
---
...so Stonecloaker can bounce itself. No need to even have Jeskai Barricade. Jfc I am the biggest of dumb.
Still, you need cost reduction + filtering + land untapping... it's still a cumbersome problem and, like I said, one piece of removal blows the entire combo apart.