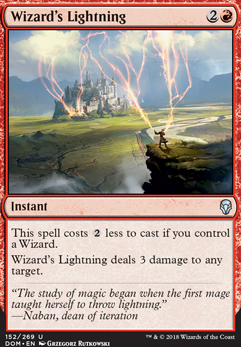 Wizard's Lightning
Instant
This spell costs less to cast if you control a Wizard.
Wizard's Lightning deals 3 damage to any one target.
Browse Alters
View at Gatherer
Legality
| | |
| --- | --- |
| Format | Legality |
| Tiny Leaders | Legal |
| 1v1 Commander | Legal |
| Magic Duels | Legal |
| Canadian Highlander | Legal |
| Vintage | Legal |
| Modern | Legal |
| Block Constructed | Legal |
| Pioneer | Legal |
| Leviathan | Legal |
| Legacy | Legal |
| Frontier | Legal |
| Duel Commander | Legal |
| Oathbreaker | Legal |
| Unformat | Legal |
| Casual | Legal |
| Commander / EDH | Legal |
Wizard's Lightning occurrence in decks from the last year
Standard:
All decks: 0.32%
Red: 6.48%
Wizard's Lightning Discussion
3 weeks ago
Hey Esbilon,
Thanks for another comment on this deck. I will try and remember to post on your Pioneer Angels deck, just as a token of my appreciation for how much you've helped me with this deck. I also see that you have a Rienne deck (although mine has more multicoloured synergies), great minds think alike ;).
For your card draw suggestions, I think that Keeper of Fables or Colossal Majesty are my best options because Keeper of Fables can draw me lots of cards when I'm in a good situation, and Colossal Majesty can help me when I'm in a worse position, perhaps leaving my guys back to block.
I didn't like Bishop of Wings in my old deck because I felt that he was either a win-more card or did nothing. I am going to try out Gisela, the Broken Blade, but my only concern is Wizard's Lightning, as most of the aggro decks at my LGS have a lot of Wizards, so I'll have to try and figure out how to deal with that. Bruna is definitely in the conversation, but my curve is probably a little bit too high already, so I'll have to figure that out.
I really like Heroic Intervention and Unbreakable Formation, so I'll have to test both. I'm not a big fan of Selfless Spirit because people can just kill it and I'd rather be playing big Angels anyway.
I like Shalai, Voice of Plenty due to her hexproof giving ability (as it stops burn spells and kills spells) and mana sink ability (in case I have nothing to do). You're probably right about Thalia, Heretic Cathar, so I'll take out a Thalia and some other things for some Gisela.
I think that the Heliod, Sun-Crowned investment is worth it, he'll probably add so much to the deck, so I'll cut Nylea for him.
Also, now that I think about it, what are your thoughts on Stasis Snare versus Banishing Light? I think I agree with you now about taking out Cast Out I've rarely flashed it in and only cycled it a few times.
Finally, what are your thoughts on the changes that I've listed below?
Thanks again, your suggestions have really helped both of my Pioneer decks,
Hexaflexagon
1 month ago
Gracco Thanks a lot for your feedback, I think we are definitely on the same page as to what the deck should be, a few thoughts on your points however:
I think Searing Blood is a must on this decks sideboard? I think, my BEST possible turn 2 against lets say mono green or gruul or mono black would be searing blood + attack with Monastery Swiftspear .
-Same for Smash to Smithereens ? except its actually even better
- Deflecting Palm for now the meta is quite diverse in non competitive play that i think is fun to have
-Ok on the -1 Titan's Strength , its just a one off i like to have because theres a fun combo with Boros Charm and prowess, but I actually think x2 Shock is better than x2 Lightning Strike .. its a cheaper way to set off prowess, if this was a 12 creature burn deck i would agree and even think about Skullcrack , but I think this deck is strongest when turn 2 is and turn 3 its hitting with one or more monastery swiftspear or Soul-Scar Mage , hence go for the 2x shock 2x lightning strike, and I need to think about setting off spectacle as cheaply as possible if needed..
-Unfortunately if I want to run the Wizard's Lightning efficiently I need to have all the wizards i can get, and i think soul scar is better than viashino as it is one mana and has an ability that can be useful recurrently as opposed to the one off 2 damage. That said runaway steam kin is a great card that I play in my standard mono red deck.
-Im worried about the damage coming from this mana base.. hence my doubts on the ruins. Could I maybe only run 2 Battlefield Forge ? I find myself that sometimes against aggro decks i end up killing myself with the mana base and Eidolon of the Great Revel
-Ill think about throwing in one or two more exquisite firecraft, i agree its an awesome card against control, and may I say a very satisfying way to win the game :D
3 months ago
If you are just looking for something that feels like this, check out the 'tempo' archetype. The archetype in blue/red is traditionally called 'delver' (after Delver of Secrets Flip ). Delver itself isn't pioneer legal, but since other staples of the deck are avalable, its worth tinkering. Cards like Bedlam Reveler for hand refills, Monastery Swiftspear doing swiftspear things, and lots of 1 mana instants/sorceries. Bounce spells are decent in this list, because you try to kill your opponent before card advantage matters. Since Treasure Cruise and Dig Through Time are still unbanned, you should play some number of them. It may become a 'wizards' archetype to support Wizard's Lightning and Wizard's Retort , but there are questions over whether Stormchaser Mage and Soul-Scar Mage are worth it.
Have a look for any deck with a good mtgo showing or tournament finish in pioneer if you want to dig into specifics, and remember that you will need to plan around whatever other decks are doing in the format, including sideboard.
4 months ago
Wow, a wall of text with potentially useful advice.
"is not really needed since most cards are instants and can be cast immediately after attacking with Narset."

A simple Manalith would aid in getting out Narset. As it stands, you will only be able to get Narset on turn 6, assuming you don't miss a land drop.

You have no haste granting cards, so your strategy will only take off on turn 7 if you are lucky and nobody plays an Edict effect..
Most people can gain a significant advantage by turn 7 if all goes well. No amount of counters can stop 3 opponent's from building their boards. You'll be a sitting duck most of the time.

There is a reason almost all commander decks run a Sol Ring . The faster you can play your strategy, the more likely you are to win.

"unless they are instant cards i don't really need them."

Chemister's Insight is strictly better than Inspiration . There is no reason you cannot use both, but Chemister's Insight has far more utility.
Counterspell , Archmage's Charm , Sinister Sabotage , Thought Collapse , and Dissolve are all strictly better than Cancel , and those are the cheap $$$ counters.
Lightning Bolt and Skewer the Critics are strictly better than Lightning Strike and Wizard's Lightning especially considering you don't have any wizards.
Your deck runs Lifelink . The card itself is cheap, but by the time your Commander is out, cost shouldn't be a consideration. Cards like Daybreak Coronet and Steel of the Godhead provide you with far more utility.

Cards like Dub and Angelic Gift provide a useful effect, but there are better cards that do more: Gryff's Boon and Asha's Favor to name a few minor improvements.

Questionably, you are running Artificer's Epiphany with only one artifact in the deck.

You are running 11 counters as control. Those 11 counters won't do you any good with Narset unless you plan to counter your own spells. Running cards like Disperse keeps stuff off the field and will be still be useful if you happen to exile it later on.

Your burn spells won't do much against larger creatures either.

"this is not a budget deck. budget, mana or money, is not a priority. if it somehow is then it is merely a coincidence."

I'm not sure what you're trying to say here, but I feel the need to advise you that:
Your mana base does, in fact, matter.
You have far better options for cards.
The only reason to play this deck as it is, is if you were on a budget. If you are not, then you can certainly replace the cards with better versions.
5 months ago
Lightning Bolt is just strictly better than Wizard's Lightning , so you should be at a 4/3 split or maybe even 4/4 if you are trying to go aggro. Skaab Ruinator is not that good because you have no way to get creatures in your graveyard. To slow things down, remove some aggro creatures and put in Kess, Dissident Mage , and to speed things up, try to lean into wizards with Soul-Scar Mage and Adeliz, the Cinder Wind . If you want to be midrange, Young Pyromancer could be good, as well as Fatal Push , or my favorite budget alternative Tragic Slip as removal. Serum Visions can help set up delver to flip earlier if you are all in delver. Remand can disrupt your opponent's tempo while cantripping on your side. I hope these can help you with your deck, and happy brewing!
5 months ago
if the goal is competitive on a budget you definitely want to change up the deck, maybe something like this where there's slightly more of a gameplan going, better average cmc, and room to upgrade.
Now the issues with this deck, I would first start by cutting everything 3+ cmc, also nearly every creature in the deck is a wizard, Wizard's Lightning is just straight better than Shock . Mana Leak , Spell Pierce Fatal Push n such are other suggestions over those massively expensive options you're running.
Load more