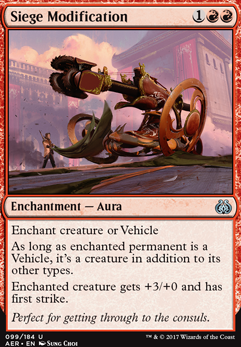 Legality
| | |
| --- | --- |
| Format | Legality |
| Standard | Legal |
| Modern | Legal |
| Frontier | Legal |
| Commander / EDH | Legal |
| Vintage | Legal |
| Legacy | Legal |
| Duel Commander | Legal |
| Tiny Leaders | Legal |
Related Questions
Siege Modification
Enchantment — Aura
Enchant creature or Vehicle
As long as enchanted permanent is a Vehicle, it's a creature in addition to its other types.
Enchanted creature gets +3/+0 and has first strike.
Siege Modification Discussion
4 days ago
Best Possible Case.
Turn 1

Resolve a [[Bomat Courier]] on turn 1 and swing in to get a card stash going.

Turn 2

Swing in turn 2 on naked board with [[Bomat Courier]] putting down a [[Consulate Dreadnought]].

Turn 3

Resolve [[Siege Modification]] on [[Consulate Dreadnought]] and swing in for 10

Turn 4

Swing in with [[Consulate Dreadnought]] with [[Built to Smash]] and then [[Fling]] for lethal.

This is assuming no land drop was missed and everything resolves.
Secondary would be to get a Peacewalker Colossus or hard crew with Depala, Pilot Exemplar, Veteran Motorist, and Renegade Wheelsmith since they give buffs to other dwarfs and help dig for vehicles and crew.
1 week ago
Thank you Zingano! I did consider that card but seeing as how this is my first deck I didn't know if I wanted to spend 49 dollars on just 4 cards do u know of any cheaper improvements? Siege Modification is another card I was looking at. Thanks again.
1 month ago
Once you attach Siege Modification to a Vehicle you lose the one big advantage that Vehicles have, which is they are difficult to remove with Sorceries.
As mentioned above, Fatal Push will kill them, but with the Modification Declaration in Stone will Exile them.
There are also spells that are problems for Artifacts now. Chiefly Dissenter's Deliverance, and Forsake the Wordly. A lot of Sideboards pack these against the Temur Marvel decks.
Fling would get around some of these problems but you would want at least four copies.
I think there is a deck that can win with Consulate Dreadnought, but I think it is a deck that packs counter spells.
Oh, and as pointed out above, Toolcraft Exemplar would allow you much more chance of Crewing your big Creature, as opposed to Thraben Inspector. The one draw it gives you is not really a good enough trade off.
Load more