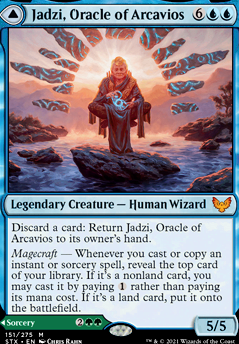 Back:
Journey to the Oracle
Flip
Jadzi, Oracle of Arcavios
Legendary Creature — Human Wizard
Discard a card: Return this to its owner's hand.
Magecraft — Whenever you cast or copy an instant or sorcery spell, reveal the top card of your library. If it's a nonland card, you may cast it by paying rather than paying its mana cost. If it's a land card, put it onto the battlefield.
Jadzi, Oracle of Arcavios Discussion