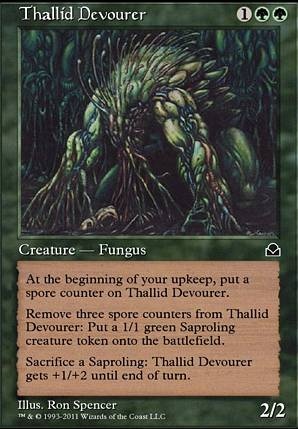 Legality
| | |
| --- | --- |
| Format | Legality |
| Noble | Legal |
| 1v1 Commander | Legal |
| Vintage | Legal |
| Casual | Legal |
| Vanguard | Legal |
| Legacy | Legal |
| Archenemy | Legal |
| Planechase | Legal |
| Duel Commander | Legal |
| Unformat | Legal |
| Pauper | Legal |
| Commander / EDH | Legal |
Tokens
Thallid Devourer
Creature — Fungus
At the beginning of your upkeep, put a spore counter on Thallid Devourer.
Remove three spore counters from Thallid Devourer: Put a 1/1 green Saproling creature token into play.
Sacrifice a Saproling: Thallid Devourer gets +1/+2 until end of turn.
Thallid Devourer Discussion
11 months ago
This is cool! I can imagine in late game it would be nice to have something that can keep you alive in case of mass removal of some sort. I would probably substitute Sprout Swarm over Sprout.
Also, it might be worth splashing white in. You'd get 2 cards that could drastically improve the deck. Namely, Selesnya Evangel (who can give you a saproling every turn!) and Pallid Mycoderm (who can pump up all of your guys by sacrificing one saproling!) I'd probably ditch the Bramble Elemental and 1 of the Sporoloth Ancient (high casting cost), as well as Thallid Devourer (as he can only pump himself) to add 4x Selesnya Evangel and 3x Pallid Mycoderm. Love the deck!
+1