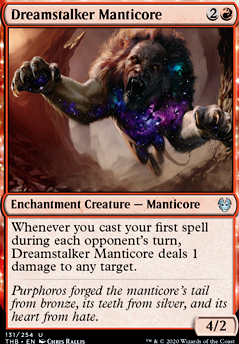 Dreamstalker Manticore
Enchantment Creature — Manticore
Whenever you cast your first spell during each opponent's turn, Dreamstalker Manticore deals 1 damage to target creature, player or planeswalker.
Browse Alters
Legality
| | |
| --- | --- |
| Format | Legality |
| 1v1 Commander | Legal |
| Arena | Legal |
| Block Constructed | Legal |
| Brawl | Legal |
| Canadian Highlander | Legal |
| Commander / EDH | Legal |
| Duel Commander | Legal |
| Gladiator | Legal |
| Highlander | Legal |
| Historic | Legal |
| Legacy | Legal |
| Leviathan | Legal |
| Modern | Legal |
| Oathbreaker | Legal |
| Pioneer | Legal |
| Pre-release | Legal |
| Standard | Legal |
| Tiny Leaders | Legal |
| Unformat | Legal |
| Vintage | Legal |
| Casual | Legal |
| Custom | Legal |
| Quest Magic | Legal |
Latest Decks as Commander
Dreamstalker Manticore Discussion
6 months ago
I am a new player to MTG Arena and MTG in general, I have found some success with the standard deck Stomp Stomp.
I had a few legendries I thought I could add to improve the deck further and add some more fun cards to play.
Full deck https://mtgazone.com/deck/stomp-stomp-new-player-experience/
The cards I removed were...
1 Dreamstalker Manticore 1 Hornbash Mentor 1 Warden of the Chained
The cards I added were....
Garruk, Unleashed Polukranos, Unchained Nissa of Shadowed Boughs
I have had some success with Garruk as he adds creatures / adds power to creatures which suits a deck already designed to add power to creatures. Also had success with Polkuranos linking up with Terror of the Peaks.
Questions - Do these cards suit the deck in the long term? and could there be any drawbacks?
Appreciate this could be subjective but just want to make sure I have not completely destroyed the deck power/harmony.
Thanks for any help in advance.
1 year ago
Removals:
Additions:
Dropped a few copies of Opt & Shock in Favour of an extra Island and Flame Sweep.
Dropped Expansion / Explosion to 3 copies as 4 was too many but I still find this to be a great late game rally/finish and really strong in matchups against ramp where I can copy something like Growth Spiral.
Torbran, Thane of Red Fell never seemed to pull his weight and Niv-Mizzet while a great top end inclusion doesn't need to be a two of. Dropped those and a copy of the Manticore in favour of 4x Brineborn Cutthroat who is as much of a workhorse here as he is in Simic Flash.
Hoping that with the addition of Flame Sweep the matchup against token strategies, particularly black/white ETb or Sac strategies, will be much stronger.