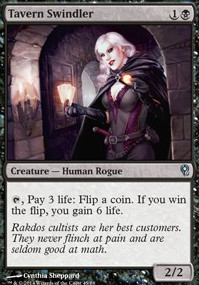 Legality
| | |
| --- | --- |
| Format | Legality |
| 1v1 Commander | Legal |
| Vintage | Legal |
| Modern | Legal |
| Casual | Legal |
| Legacy | Legal |
| Duel Commander | Legal |
| Unformat | Legal |
| Pauper | Legal |
| Commander / EDH | Legal |
Related Questions
Tavern Swindler
Creature — Human Rogue
, Pay 3 life: Flip a coin. If you win the flip, you gain 6 life.
Tavern Swindler Discussion
1 month ago
Alrighty then let's get you all set!
You've got some big things and that's not bad with your commander, but you'll need some cheaper burn spells if Rakdos can really work. With that being said, Lightning Bolt, Lava Spike, Bump in the Night, and Rift Bolt are your best friends. As for land base, try to shy away from basics, but add in as many rakdos duals that don't come in tapped as possible. I'll get you started down below.
While using rakdos, keep in mind that he takes away only colorless mana, so huge eldrazi such as Void Winnower, Ulamog, the Infinite Gyre, Pathrazer of Ulamog, Kozilek, Butcher of Truth, Desolation Twin and It That Betrays can all go out for free if you play it right.
It's also important to keep in mind that the ability only impacts creatures, so super expensive things like Din of the Fireherd, Subterranean Tremors don't belong.
Furthermore, there are some cards that don't work too well in an aggro build like this and could use an upgrade. Take out:
replace with:
With these changes as well as the ones mentioned above, you'll be well on your way to a hated deck! Good luck!
1 year ago
December 20th
Today was Return to Ravnica, which is one of our favorite sets ever.
We cracked some complete dross (Catacomb Slug, anyone? Anyone?), but overall, the pack was as decent as we'd hoped. We got a good start on some Rogue tribal with Stealer of Secrets and Tavern Swindler. And Knightly Valor was a surprisingly sweet Common.
We ended up with three great choices for our 1st Pick, and kind of had a split decision. Selesnya Charm was great value and, in the end, our 1st Pick. But we went back and forth with Teleportal, which looked awesome too ... the sorcery speed isn't as cool of course, but oh those Overload cards! And we also seriously considered our rare: