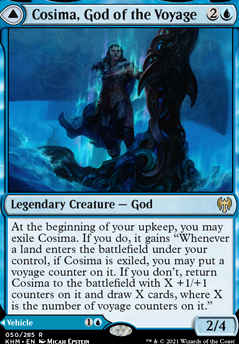 Back:
The Omenkeel
Flip
Legality
Cosima, God of the Voyage
Legendary Creature — God
At the beginning of your upkeep, you may exile Cosima. If you do, this gains "Whenever a land enters the battlefield under your control, if this is exiled, you may put a voyage counter on this. If you don't, return this to the battlefield with X +1/+1 counters on it and draw X cards, where X is the number of voyage counters on this."