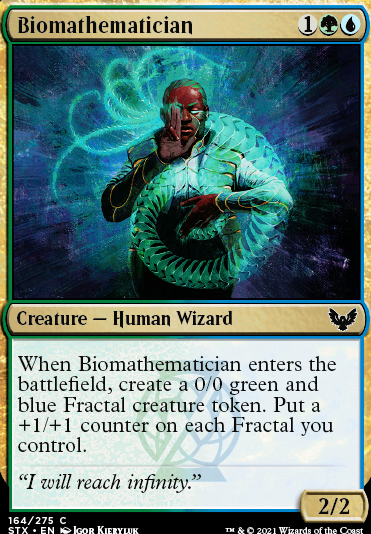 Biomathematician
Creature — Human Wizard
When this enters the battlefield, create a 0/0 green and blue Fractal creature token. Put a +1/+1 counter on each Fractal you control.
Browse Alters
Tokens
Legality
| | |
| --- | --- |
| Format | Legality |
| 1v1 Commander | Legal |
| Arena | Legal |
| Block Constructed | Legal |
| Brawl | Legal |
| Canadian Highlander | Legal |
| Commander / EDH | Legal |
| Duel Commander | Legal |
| Gladiator | Legal |
| Highlander | Legal |
| Historic | Legal |
| Legacy | Legal |
| Leviathan | Legal |
| Limited | Legal |
| Modern | Legal |
| Oathbreaker | Legal |
| Pauper | Legal |
| Pauper EDH | Legal |
| Pioneer | Legal |
| Pre-release | Legal |
| Standard | Legal |
| Tiny Leaders | Legal |
| Unformat | Legal |
| Vintage | Legal |
| Casual | Legal |
| Custom | Legal |
| Quest Magic | Legal |
Latest Decks as Commander
Biomathematician Discussion
1 month ago
Hello,
It's refreshing to see new players coming up with their own deck ideas instead of just copying the top meta decks. Welcome to the game btw!
I haven't seen many people play dedicated "fractal" decks so far, but something that I've seen people make work was using Body of Research to make a huge body and then win with Fling or Kazuul's Fury  Flip. It seems pretty close to the way you try to play the deck anyway seeing how you like to have Solve the Equation in your opening hands. A combo deck like that wouldn't really need as many tribal interaction and focus mostly on getting the right cards out asap while just staying alive, so cards that give better card selections Omen of the Sea , bounce spells Into the Roil and counterspells Saw It Coming could be more helpful.
If you prefer to play the tribal aspect where you try to win with creatures and superior board state, you shouldn't really need to rush to a specific card like you do when using Solve the Equation . Instead you should try to get the most out of you creatures. The Great Henge seems like a great fit in this case since you will have large bodies for the discount, and your creatures will get more +1/+1 counters for your existing synergies. I'm not sure what Confounding Conundrum is there for, it's usually a side-board card, or a card built around things like Field of Ruin to trigger it or in Yorion, Sky Nomad to bounce it, but another 2 drop you could consider would be Guardian Gladewalker since it gives a +1/+1 counter and it also counts as a fractal for Biomathematician .
I find that The Ozolith is a very nice fit for the deck, but drawing multiple is hardly ever going to help you, so you could easily cut 1 and only play 3. Also, going up to 23(or more) lands certainly wouldn't hurt. You could make it a Mountain if you want to go the combo route to supplement your Ketria Triome for the red splash so that any Fabled Passage can be a red source.
Btw, you seem to think that The Ozolith would cover you if Body of Research gets "countered", but if that happens the creature won't ever exist, so there will be no counters for The Ozolith to pick-up. If it resolves and then the creature gets destroy or remove from play by any means, then yes it would work.
Hopefully these suggestions are useful,
Good luck!