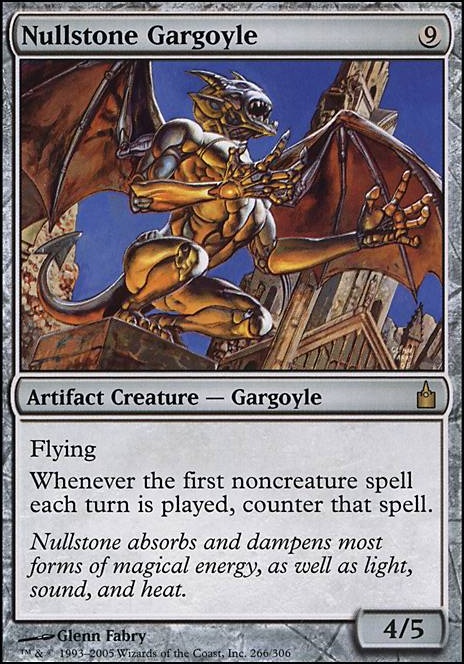 Legality
| | |
| --- | --- |
| Format | Legality |
| Noble | Legal |
| Leviathan | Legal |
| Magic Duels | Legal |
| Canadian Highlander | Legal |
| Vintage | Legal |
| Modern | Legal |
| Penny Dreadful | Legal |
| Vanguard | Legal |
| Legacy | Legal |
| Archenemy | Legal |
| Planechase | Legal |
| Duel Commander | Legal |
| Unformat | Legal |
| Casual | Legal |
| Commander / EDH | Legal |
Nullstone Gargoyle
Artifact Creature — Gargoyle
Flying
Whenever the first noncreature spell of a turn is played, counter that spell.
Nullstone Gargoyle Discussion
5 days ago
Biggest issue I see here is a lack of focus and not enough creatures for a creatures only matter deck.
Animar, Soul of Elements wants two main things: Cast creatures and get +1/+1 counters to cast larger creatures. Everything in the deck should be focused on those two goals.
Setting up the deck to achieve this purpose will make it efficient and powerful. All cards should therefore do one of the following:
Ramp up to Animar.
Protect Animar.
Place counters on Animar.
Cast game ending creatures for cheap or free.
Draw cards to allow us to do 1 through 4.
Priority should be given to cards that does something now > does something before your next turn > does something on your next turn > does something eventually.
Because Animar offers a discount based on creatures played, the deck shouldn't be filled with only high cmc game enders, but creatures from low to high cmc, preferably with as little colored mana symbols as possible, to give the deck a natural progression to casting free or cheap high cmc game ending creatures.
Let's split the deck into 3 parts. Pre-Animar setup, Post-Animar setup, Finale.
Note that $: (0 to 0.99), $$: (1.00 to 4.99), $$$: (5.00 to 9.99), $$$$: (10.00 to 19.99), !$!: (20.00+)
Unnecessary on a computer, very helpful on a phone.
This section will be all ramp, and protection to get Animar out quickly and make sure he is secure.
- The land base should be arranged to where there is more emphasis on , then , then since can color fix and can offer protection.
- Exotic Orchard is pretty good and cheap and can usually offer every color in multiplayer, especially if an opponent has a Command Tower out or even a Vivid Grove without even needing charge counters. - Kazoo lands such as Simic Growth Chamber, Izzet Boilerworks, and Gruul Turf are good in casual EDH where there is lack of land destruction and they artifically increase your deck ammount by posing as two lands in one. Though overall you do not want too many tap lands as you'll constantly be a entire turn behind.
This section will be about setting up our board state to win. All cards from this point onwards will be casted after Animar has been casted.
This section will be about ending the game with giant behemoths.
1 month ago
A while back I was going to use more counterspells, but I really don't know how I would make it work in a 5 color deck. I left Dovescape in the maybeboard because it interacts with Eye of the Storm, but I don't have enough to make Guile worth it, which is something I wanted to do at one point because Guile Is fun.
That said, if someone else knows their way around counterspell decks better than me, it would definitely be fun, along with stuff like Ice Cave, Chancellor of the Annex, and Nullstone Gargoyle, Decree of Silence, and a bunch of other things.
2 months ago
If you're aiming for this to be truly competitive, here are some suggestions.
Forbidden Orchard, Cephalid Coliseum, and more basics instead of your choice of the fast lands, filter lands, or check lands(or all).
Avenger of Zendikar, Kokusho, the Evening Star, Razaketh, the Foulblooded, and Verdant Force can all go for more immediate reanimation targets. If they weren't in here for reanimation, I'd take them out altogether. Some replacements could be Palinchron, Consecrated Sphinx, Vorinclex, Voice of Hunger, Tidespout Tyrant, and Nullstone Gargoyle. These all have an immediate presence, and basically read "Your opponents can't win the game until I'm dealt with." These slots can be flexed based on meta and shit tho so take your pick. Avenger, Koko, and Verdant Force really don't do much until your next turn, so they can be either easily dealt with or at least prepared for before they come in swinging or start getting sac-ed for value. Razaketh is a more expensive Rune-Scarred Demon that requires another creature, as you're usually only going to need one tutor to win the game. Palinchron is a super good combo piece, sphinx will draw you at the very least two cards before sorcery speed removal is online, vorinclex will tap down at the very least 2-3 lands for targeted removal, and more for wipes. Tidespout can wipe out an entire color from someone's manabase if you play it right, and can do that the second after it hits the field, even in response to an immediate removal spell. Gargoyle is iffy, but can shut down some decks. This one's risky but amazing if you play around it correctly.
Hell's Caretaker and Zombify are sub-prime reanimation spells. Exhume is far and away a better replacement, despite not being a permanent and having a heavy downside. Necromancy is super good and you should definitely be running it. I'm not sure why Unearth is in here? It would be much better to devote this slot to ramp and use that ramp to then cast stuff from your graveyard with Muldrotha.
Dreamborn Muse and Traumatize. I know this will sound weird, but this scale of mill is simply not worth it. First off, they're both very expensively costed, and will most likely take up your turn. Second, drawing half your deck and tutoring for a combo piece basically have the same effect: you find your wincon; except that these mill spells don't guarantee it, and are clunky, inefficient, and expensive. Thirdly, even if you really feel the need to "draw" like thirty cards, you'll really only be able to play a couple of them before the game ends, so again its redundant and over the top. A better option would be something like intuition, which will mill only the cards you want, without being over the top. Sultai Ascendancy is decent, and I have no qualms with putting it in, but Search for Azcanta Flip is much much better, and even something like Monastery Siege has the same type of filtering effects but with more flexibility and less mana requirement. Overall, I like to stick to cards like Careful Study and Winds of Rebuke over just straight up milling effects, as they prioritize giving you options and flexibility over shear milling quantity.
Jarad's Orders is fine and is a good budget option, but I'd prioritize Intuition and even Gifts Ungiven over it.
Disciple of Bolas. There are better sac outlets.
River Kelpie is kind of on the same path as Traumatize: its just too much. Yeah, if you're super greedy you can devote a turn to playing this and maybe draw a shit ton of cards from it over the next few turns, but it really is just a win more spell. The whole point of this deck is to have the stuff you're re casting be good enough that it can win you the game right away, without the need to draw extra cards. If this is in here to find those good cards, there are better filtering and tutor options.
Gitrog is juicy, but not competitive. It's expensive, and doesn't really provide that much immediate value. It's really sick tho.
Worldly Tutor is much worse than Mystical Tutor or Vampiric Tutor here. Searching for a Tooth and Nail and then winning is much better than searching for a part of your combo. It's a really good card tho so keep it in if you find a good slot.
Sylvan Awakening I'm guessing is part of some combo I don't quite understand, but otherwise isn't really that great. Even if you had like 10 lands on the battlefield, it still wouldn't make a dent in your opponents' collective life total.
World Shaper and Ramunap/Crucible are good, don't get me wrong. However, they add, as I've said before, lots of redundancy. With your current deck, will you winning the game really depend on if you play 3 strip mines in one turn versus 2? Crack 3 fetches instead of 2? Again don't get me wrong, these are good cards, and if you make the deck almost completely devoted to a "lands matter" archetype, they are staples, but if you're aiming to get your commander out during most games, they'll just get in the way and provide you with unnecessary, excessive land drops. Now, World Shaper does ramp you and mill you, so it is flexible, but it is slow and expensive, and could still probably be replaced by something better.
Kodama's Reach, Cultivate, Awakening Zone, and Chromatic Lantern are great for fixing/ramp, but are just too damn slow. What you really need for ramping is Mana Crypt, signets or dorks(your choice, but i'd select either artifacts or creatures and role with it), Mind Stone, Mox Diamond, Lion's Eye Diamond, Lotus Petal, Nature's Lore, Three Visits, azusa, Grim Monolith, and Deathrite Shaman. These are all great options, take your pick.
Just some things I think you should consider: Protean Hulk and Defense of the Heart are good combo enablers, Pernicious Deed is a recurrable boardwipe, shriekmaw is cheap recurrable removal, Mystic Remora is really cheap card draw that becomes even better w/ muldrotha on the field, Greater Good draws you some cards but more importantly fills your graveyard, Contamination can shut down your opponents and is easy to keep up w/ muldrotha on board, and Command Beacon is a must have with a six mana commander, not to mention you can replay it when muldrotha is out.
Overall you really just need to make your ramp package better. Also, if you want to make this deck more combo-y, just take out everything that produces long term value and replace it with counters and removal.
2 months ago
Hard remove: Jaddi Offshoot, Abzan Beastmaster, Crown of Doom these cards seem extra weak either in this list in particular or overall
Jaddi? Not land focused
Beastmaster? Not fatty focused
Crown? Not wide enough
Soft remove: Nullstone Gargoyle, Dwarven Miner, Viashino Heretic
These cards are all slow, expensive, and make you a target. They are also redundant to Ruric Thar to some extent, which isn't bad, but it isn't copacetic to the plan.
Try: Ondu Giant, Borborygmos Enraged, Farhaven Elf, Viridian Emissary
What do these have in common? They're affordable, they're creatures and they ramp you to your fatties.
Then, to give your mooks some kick try cards like: Goblin Bushwhacker, Instigator Gang Flip, Reckless Bushwhacker,
5 months ago
I've been tuning my Animar, Soul of Elements deck for a while, and while I'm usually quite good at protecting him with cards like Kira, Great Glass-Spinner, Voidmage Prodigy, and Venser, Shaper Savant, I think that I still need more low cmc creatures that can cheat out my fatties, just in case Animar, Soul of Elements gets nuked.
A little information about my deck: I don't run anything but creatures, which gives me a lot of synergy and allows me to make uninhibited use of cards Nullstone Gargoyle and Momir Vig, Simic Visionary, so I'm not interested in non-creature cards like Quicksilver Amulet.
I run a few Eldrazi, but the deck is mostly focused on playing creatures with stax/disruption effects like Vorinclex, Voice of Hunger and Grenzo, Havoc Raiser.
I don't know of many cards like Elvish Piper, other than Djinn of Wishes and Mindwrack Liege, but while they are decent, they aren't quite as efficient as Elvish Piper is, and I could still use more options.
Please help!
5 months ago
But like... if someone finds a way to... I dunno... disrupt your combo with... I dunno... removal or a counterspell or like, anything... you just sorta lay down and die. Your deck becomes a normal naya beatdown deck, but with a much worse mana curve.
For stopping counterspells: Prowling Serpopard is great, Gaea's Herald is acceptable, maybe Cavern of Souls but ya know, $$$$. Leyline of Lifeforce, Not of This World, possibly Nullstone Gargoyle. There's that.
Regarding removal, Not of This World is good, Swiftfoot Boots and Lightning Greaves are iffy at sorcery speed, Blossoming Defense, Archetype of Endurance, Asceticism, Sheltering Word, Heal the Scars, Heal the Scars, Molting Skin is amazing, Regenerate, Seedling Charm, Vagrant Plowbeasts.
So yeah that's what I got: a lot of the choices here are not very good, but for redundancy I though some may be useful.
Load more