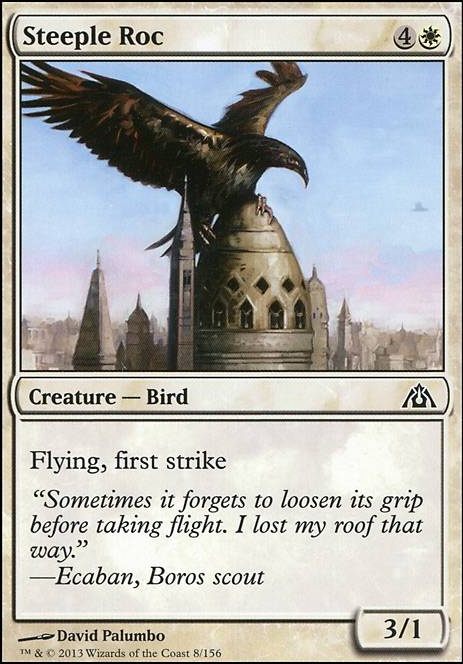 Steeple Roc
Creature — Bird
Flying, first strike
Browse Alters
View at Gatherer
Legality
| | |
| --- | --- |
| Format | Legality |
| 1v1 Commander | Legal |
| Pauper EDH | Legal |
| Tiny Leaders | Legal |
| Canadian Highlander | Legal |
| Modern | Legal |
| Block Constructed | Legal |
| Commander / EDH | Legal |
| Highlander | Legal |
| Pauper | Legal |
| Unformat | Legal |
| 2019-10-04 | Legal |
| Limited | Legal |
| Casual | Legal |
| Oathbreaker | Legal |
| Legacy | Legal |
| Duel Commander | Legal |
| Vintage | Legal |
| Custom | Legal |
| Pioneer | Legal |
| Leviathan | Legal |
Latest Decks as Commander
Steeple Roc Discussion
3 years ago
I assume it's supposed to be a modern deck, right?
then you need to make it more boring. That is "consistent": Decide on which cards are the best - are there some you really want to see in your hand every time you start a game? those you need 4 of. That's stuff like Path to Exile - it's just better when you have it. And you need to decide on how you are going to win. If the winning is to be done by big fat lategame angels, you need a plan for surviving the early game (stall until turn 4, then play Day of Judgment, perhaps). All this means: Remove all the one-ofs you don't really use to win games with, and bump up the number of those, you use for winning, and keep an eye out for replacing cards with something better. Why play Steeple Roc when you could play Flickerwisp instead? Same body, flying, but Flickerwisp has a strong ability and costs less mana (and lacks first strike). Voice of the Provinces is soooo overpriced - 6 mana for a microsize angel and a human token.
Also... eh... many of your cards are somewhat underpowered. There are reasons you don't see many Lionheart Mavericks in modern. Crusader of Odric is also on this list - it's only good if you are winning anyway. Court Street Denizen... all your enchantments (avoid playing auras on creatures without hexproof - opponent shoots the creature, and that's a 2-for-1 right there). Nav Squad Commandos. And several more (in general, assume that creatures for 4 or 5 mana should have a strong impact on the game, not just be random attackers). Instead, add cards like these: Restoration Angel, Baneslayer Angel, Gisela, the Broken Blade, Bruna, the Fading Light, if you can find the money for them.
A general note on creatures in modern: Lightning Bolt is a very popular card. Therefore, you have to watch out for creatures with toughness 3 or less and their casting cost. Guardian of the Gateless is an example of a real no-no in that regard; most likely you'll spend a full turns mana just playing it. Losing it to a 1 cmc spell just feels bad.