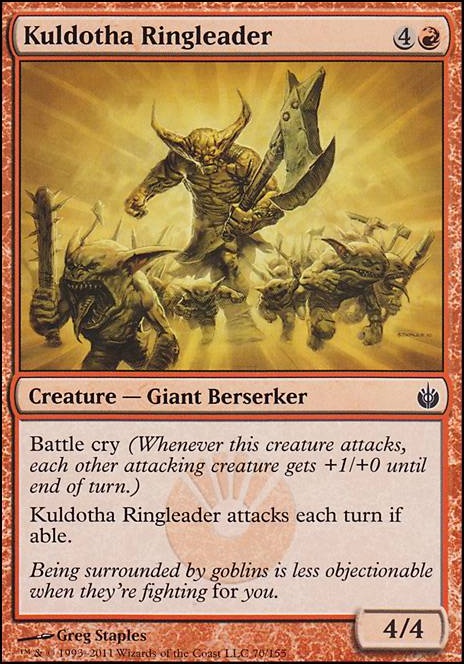 Legality
| | |
| --- | --- |
| Format | Legality |
| Tiny Leaders | Legal |
| Noble | Legal |
| Leviathan | Legal |
| Custom | Legal |
| Magic Duels | Legal |
| Canadian Highlander | Legal |
| Vintage | Legal |
| Modern | Legal |
| Penny Dreadful | Legal |
| Casual | Legal |
| Pauper EDH | Legal |
| Vanguard | Legal |
| Legacy | Legal |
| Archenemy | Legal |
| Planechase | Legal |
| 1v1 Commander | Legal |
| Duel Commander | Legal |
| Oathbreaker | Legal |
| Unformat | Legal |
| Pauper | Legal |
| Commander / EDH | Legal |
Kuldotha Ringleader
Creature — Giant Berserker
Battle cry (Whenever this creature attacks, each other attacking creature gets +1/+0 until end of turn.) Kuldotha Ringleader attacks each turn if able.
Kuldotha Ringleader Discussion
7 months ago
Hey :)
So something to immediately note, RW decks do not have a great amount of card draw or mana ramp. So Some of the cut recommendations will be focusing on making our individual card quality quite high, and making sure that our curve is reasonable due to lack of ability to rapidly start dropping high mana creatures quickly.
The recommendations will also be focusing towards the strengths of what our commander gives us. Namely, noncombat based win condition, and reliable lifegain. Meaning we don't have to rely on turning our guys sideways to win, and we can pack our deck with effects that let us draw cards on life gain and similar effects.
Also, I'm sure you are already aware from typing up the decklist, but there are a lot of draft level creatures and other cards in this deck. So there will be a lot of cut recommendations for this one.
Recommended Cuts
Creatures
Bull Cerodon - Its a generic 5/5 for 6. Its not great here.
Fire-Belly Changeling - While it is a giant for our tribal effects, we could do with something with more impact for our two drops.
Firemane Angel - This card is just SO SLOW and SO expensive to get anything going. And the body that all this work gets you is so mediocre that i just don't think this is worth it.
Hearthcage Giant - Second most expensive mana cost card in the deck, and not nearly as powerful as what we want any 8 drops that we play to be.
Hillcomber Giant - 4 mana 3/3 with little upside. We can play better.
Ivory Giant - Suspended on turn 1 this will come down on turn 6. Hard cast it will come down on turn 7. The effect that we get from doing so is not necessarily game changing so we can probably find something thats better for this slot.
Kuldotha Ringleader - Another draft level creature that unfortunately doesn't make the cut in commander.
Lairwatch Giant - Again. too much mana for what it does.
Shatterskull Giant - 4 mana 4/3 with nothing else. Not really good enough
Maybe Creatures
Artisan of Kozilek - This effect is good. But its a lot of mana in a colour pair not known for great ramp. So this is one we will need to re-evaluate once we look at how good our mana is.
Cloudgoat Ranger - While it makes a decent amount of bodies for the cost, its not greatly efficient towards what we are trying to do.
Wandering Graybeard - Ok stats but rather low impact for a 5 drop in commander. Doesn't immediately need replacing but on the short list further down the line.
3 years ago
There are a few cards I would suggest putting in. 1. Kuldotha Ringleader: These suddenly make all of your spawns pack a much scarier punch. When you use Swarm Surge, they aren't 3/1s with first strike, they're 4/1s with first strike, and that can be the difference to the game. The main downside is trying to pronounce the first word in his name. 2. Loxodon Partisan: While this only works if you splash white, this guy can still be pretty powerful. Again with the battle cry, but he doesn't attack each turn if able. 3. Hissing Iguanar: This guy will make it so if your opponent just has a wall of blockers, you can just sacrifice yours to kill the opponent. Or maybe at end of combat, if they're at 7, you can just sac your field to kill them.
No data for this card yet.