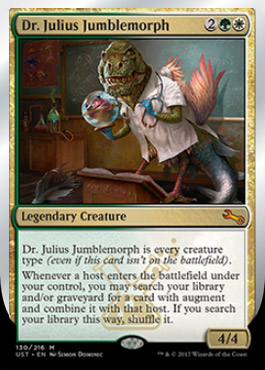 Legality
| | |
| --- | --- |
| Format | Legality |
| Custom | Legal |
| Leviathan | Legal |
| Unformat | Legal |
| Casual | Legal |
| Magic Duels | Legal |
Dr. Julius Jumblemorph
Legendary Creature
Dr.Julius Jumblemorph is every creature type (even if this card isn't on the battlefield).
Whenever a host enters the battlefield under your control, you may search your library and/or graveyard for a card with augment and combine it with that host. If you search your library this way, shuffle it.
Dr. Julius Jumblemorph Discussion
No data for this card yet.