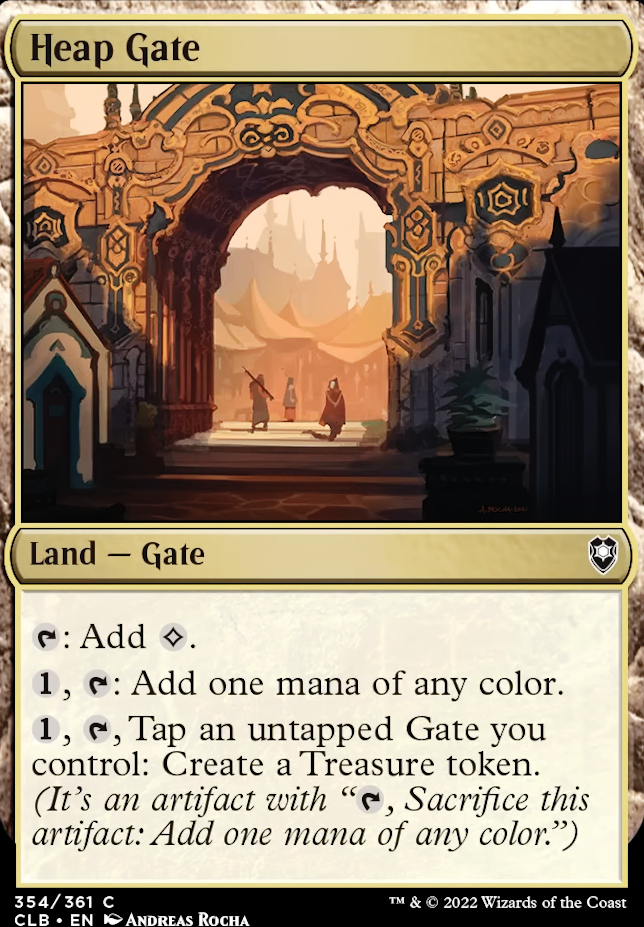 Tokens
Legality
5 months ago
I have come to remind you that the Baldur's Gate set came out! Granted, some of these are slightly more expensive than a regular gate, but not by very much.
6 months ago
Why bother with Red Elemental Blast in Mainboard? It's a dead draw if you're not up against blue, and it's not like Pyroblast where you can have it target something and be a "free" spell to cast. Why Heap Gate and Ornithopter at all? Lots of odd choices.
Your Prowess theme is lacking too, very few threats to take advantage of the spells, with Spellgorger Weird and the tokens of Goblin Wizardry being really slow. I understand it's pulled from your collection, but there's not enough of the "prowess" part to it right now.
9 months ago
Looking at the new colorless gates, Baldur's Gate, Gond's Gate, and Heap Gate are all different styles of mana production, as ramp, fixing, and treasure respectively. Basilisk Gate is more interesting with Keene, giving a potential +11/+11 to a commander that's already a 4/4 pseudo-hexproof menacer. You already have to be attacking to get the benefits, but if you dig up Basilisk Gate quickly, that Voltron idea can start developing fast. Attack, pump, deal damage, find gate, repeat.