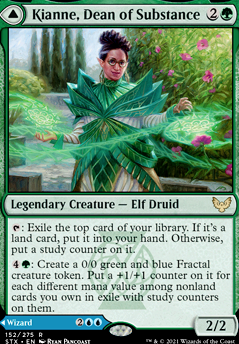 Back:
Imbraham, Dean of Theory
Flip
Tokens
Legality
Kianne, Dean of Substance
Legendary Creature — Elf Druid
: Exile the top card of your library. If it's a land card, put it into your hand. Otherwise, put a study counter on it.
: Create a 0/0 green and blue Fractal creature token. Put a +1/+1 counter on it for each different mana value among nonland cards you own in exile with study counters on them.