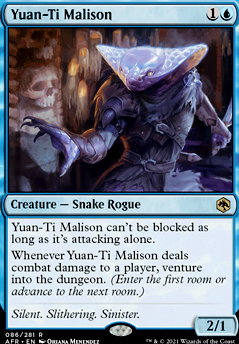 Yuan-Ti Malison
Creature — Snake Rogue
This can't be blocked as long as it's attacking alone.
Whenever this deals combat damage to a player, venture into the dungeon. (If you aren't venturing through a dungeon, choose one of the dungeon cards you own from outside the game, put it into the command zone and put a venture counter on the first room of that dungeon. All effects of that room trigger. When you venture into the dungeon while you have a dungeon in the command zone, advance to the next room downward of your choice and triggering all effects of that room. When you have resolved the effects of the last room of the dungeon, remove that dungeon from the game. You can only venture through one dungeon at a time.)
Latest Decks as Commander
Yuan-Ti Malison Discussion
1 month ago
The dungeons are in the token section. I tried to put them in the sideboard so it's easier to see, but they ended up in tokens. But yeah, the deck really only uses Dungeon: Dungeon of the Mad Mage and Dungeon: Lost Mine of Phandelver, and we're trying to line up "target creature, something something" abilities on the dungeons with Willbreaker coming into play.
Basically, I just wanted to use Ellywick Tumblestrum in the most effective way I could : ) A happy go lucky planes traveling bard was just too much fun to let it slide by. But yeah, once Willbreaker comes in and I start hitting multiple ventures per turn with something like Yuan-Ti Malison with Fly on it, I can usually just yoink the world over to my side : )