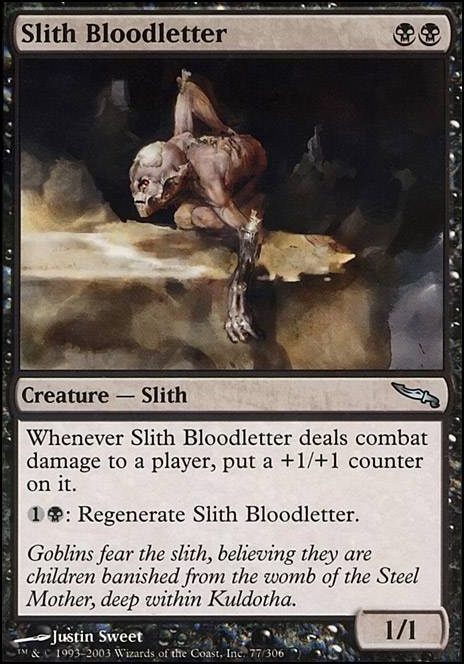 Slith Bloodletter
Creature — Slith
Whenever Slith Bloodletter deals combat damage to a player, put a +1/+1 counter on it.
(1)(Black): Regenerate Slith Bloodletter.
Latest Decks as Commander
Slith Bloodletter Discussion
3 years ago
I'd argue that Gonti, Lord of Luxury fits better for jack - the whole ability to use an enemy's deck against them, along with deathtouch, and a hint of class.
other options that I thought about for him were Dire Fleet Ravager or Nekrataal. (although the ravager fits well for Hatchet face too, or Nekrataal for murderrat)
For Crawler, there needs to be some built in regenerate - Slith Bloodletter and Mortivore come to mind, but if you wanted to keep it legendary, Korlash, Heir to Blackblade works too. Masticore fits more for the acid spitting aspect, but not so much for the growth / adaptation.
Burnscar feels like Jaya Ballard, Task Mage
Darkling Stalker could go for alot of the lesser members, like night hag or Nyx. Avatar of Woe wise feels like it belongs in the deck somehow.
Ink-Eyes, Servant of Oni as a non-general version of bonesaw?
just tossing out ideas, seeing if anything sticks. Not finished with worm, only around chap 27 at the time of posting this. glad to see another story-based deck around!