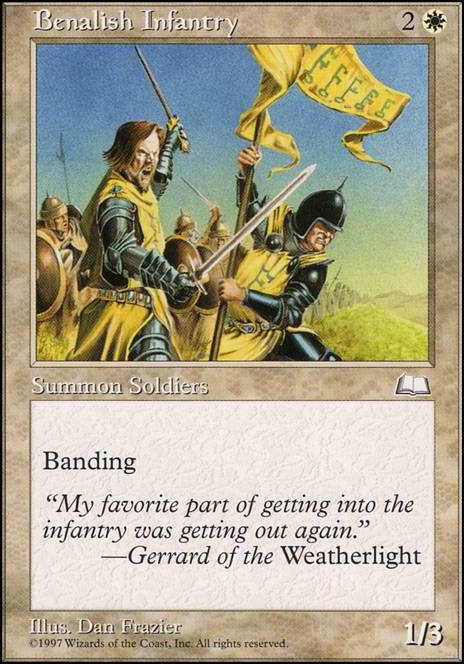 Benalish Infantry
Creature — Human Soldier
Banding
Browse Alters
View at Gatherer
Legality
| | |
| --- | --- |
| Format | Legality |
| Tiny Leaders | Legal |
| Noble | Legal |
| Leviathan | Legal |
| Magic Duels | Legal |
| Canadian Highlander | Legal |
| Vintage | Legal |
| 2019-10-04 | Legal |
| Casual | Legal |
| Pauper EDH | Legal |
| Vanguard | Legal |
| Legacy | Legal |
| Archenemy | Legal |
| Planechase | Legal |
| 1v1 Commander | Legal |
| Duel Commander | Legal |
| Oathbreaker | Legal |
| Unformat | Legal |
| Pauper | Legal |
| Commander / EDH | Legal |
Benalish Infantry Discussion
2 years ago
I mean, we should probably talk about that big ol' elephant in the room: Banding.
Banding is one of those abilities that should work. There are plenty of absurdly powerful combos you could assemble--I've always thought a combination of Breaker of Armies, Stuffy Doll, and Cooperation would be rather fun. On defense, a creature with banding can completely block a creature with trample, which is absurdly good, particularly given the numerous ways of giving creatures indestructible.
Now, it's pretty clear that I love the concept of banding, but there are several reasons why I do not think it worked.
Banding requires tremendous support to excel on offense, but is from an era of Magic where cards tended to be less complex. There really are not any creatures that both have banding and a way to abuse it.

Wizards had not quite figured out how to cost creatures with abilities when banding was released. 1/1s with banding (Benalish Hero and Timber Wolves) for 1 mana is quite reasonable--this is a card you want to throw in front of a trample user to buy you time. But it will not really help you much on offense. But once you start getting larger creatures like Benalish Infantry, the cost feels wrong--you're paying far too much for an ability that heavily requires other cards.

Often times, banding creatures together makes them worse in combat. There are some combos you can use, but none of those combos work well with the existing set of banding cards.

It's a wordy nightmare. I'm no stranger to complex legalese, and banding still gives me a bit of a headache.

While nothing else really compares to banding's blocking ability, there are far, far better pseudo banding options for offense such as Odric, Master Tactician.

The current selection of banding cards are far, far too slow for Legacy and Vintage, leaving only Commander. There are only two legendary creatures with banding. Ayesha Tanaka is just terrible, with a small body for 4 mana and an extremely situational ability. Soraya the Falconer has a wonderful ability to confer banding... but only to birds--a tribe which does not really have the support necessary to break banding.