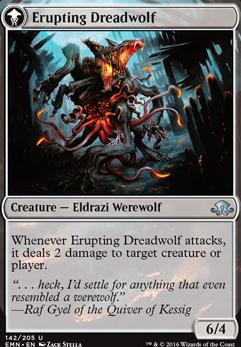 Front:
Smoldering Werewolf
Flip
Erupting Dreadwolf
Creature — Eldrazi Werewolf
Whenever this attacks, this deals 2 damage to target creature, player or planeswalker.
Latest Decks as Commander
Erupting Dreadwolf Discussion
5 years ago
MagicalHacker,
I know it doesn't answer all of your question, but you can see all the EMN cards so far here.

yeaGO,
I'm sure the Meld cards might be tricky, but when you get a spare moment (har!), I'd really appreciate it if you could connect the remaining Werewolves to their back faces:
Thinking about the Meld cards, maybe you could just connect the front and back faces too. We know they don't actually Transform, but it would be a fine work-around.
THANKS!!!