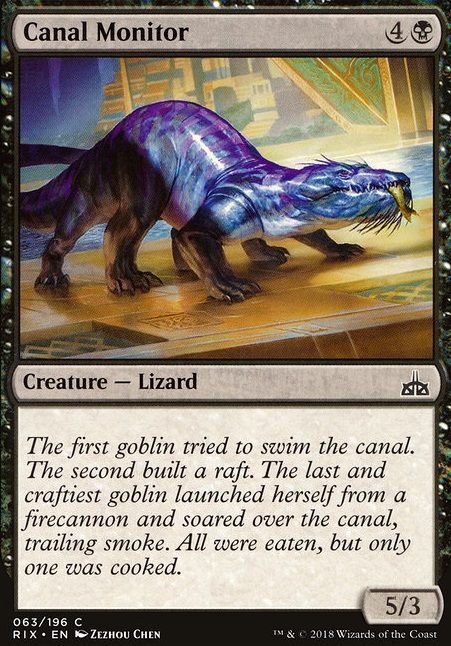 Canal Monitor
Creature — Lizard
Browse Alters
View at Gatherer
Legality
| | |
| --- | --- |
| Format | Legality |
| Tiny Leaders | Legal |
| 1v1 Commander | Legal |
| Magic Duels | Legal |
| Canadian Highlander | Legal |
| Vintage | Legal |
| Modern | Legal |
| Penny Dreadful | Legal |
| Block Constructed | Legal |
| Casual | Legal |
| Pauper EDH | Legal |
| Pioneer | Legal |
| Leviathan | Legal |
| Legacy | Legal |
| Frontier | Legal |
| Duel Commander | Legal |
| Oathbreaker | Legal |
| Unformat | Legal |
| Pauper | Legal |
| Commander / EDH | Legal |
Canal Monitor Discussion
1 year ago
Yeah, that happens quite often, even in the actual sets. There's an old story that Birds of Paradise's art was originally painted for Volcanic Island. The art didn't fit, so they made a new one for Volcanic Island. They created Birds of Paradise to fit the artwork.
Rampaging Primosaur: I love this idea: in a set that focuses heavily on "abilities matter", the "basic lands matter" ability is right on theme. I would like to see more "basic lands matter", if there's room for them in this set. I dislike excessively mathy cards, and that particular ability seems like too much. Let me suggest a replacement: Name it "Rampaging Imperiosaur", cost it at , and make it a 5/5 with Trample and "Spend only mana produced by basic lands to cast Rampaging Imperiosaur".
Sidenote: The classic Imperiosaur does have an ability, and much to the surprise of new players, is not affected by Muraganda Petroglyphs. This is unfortunate because it would have been a great candidate for reprint. If you use this Imperiosaur ability on other creatures, I would give them another ability so it's unambiguous.
Rapt Hatchling: This is another situation where you're hamstrung by art. This looks more like a sorcery than a 2/2.
Razor-edge Thicket: I first read this as Razorverge Thicket. I love the ability on this card. It could probably be cheaper, because the opponent can just make creatures Primal to avoid it. This brings up the next question: where are all the 2-toughness Flying Primal creatures? A Gatherer search for Core Set 2019, Flying, and Toughness <= 2, gives about 10 creatures.
Rebellious Torcher: Absolutely not. This card would be format-warping: that kind of repetitive land destruction, that early in the game would quickly put people to 0 lands, hoping that there's a Shock and an untapped land in their top 10 cards, or else they lose. Many games would end with that creature as the only permanent on the battlefield.
Saber-Spear Ambusher: This card has an unfortunate interaction, where it can first strike, and then bounce itself before the opponent hits them.
Sacrificial Dirk: It's a costly equip for a Gorgon Flail.
Savannah Prowler: Just give it Haste and First Strike, and save the craziness. It would be in good company with Cerodon Yearling, Skyknight Legionnaire and Sky Terror.
Shielding Heron: That hurts because I really enjoyed Muck Drubb. The ability was made useless once they decided that it can't be used to counter spells for invalid target. You don't want to make a card that's useless before it gets to paper.
Spigot-shell Mollusk: Beautiful art, it's sad that it's being used on a card few people would ever play. Maybe its ability should be free? I'd compare it to Death Cultist.
Spiral-shell Spawner: was mill going to be a theme for blue?
Stutter-spell: Significantly more powerful than Runeboggle. As a general rule, tacking "Draw a card" on to something costs . For the card I mentioned, it's Force Spike. Looks like you're tacking it on to Mana Leak, so the cost should be .
Submerging Shonisaur: I can't be sure, but it's probably too big to have protection, and evasion built in.
Swift Pterodrone: Are they called Pteron, Pterodon, Pteranodon, or Pterodrone? I think I've seen all of them. You and Wizards need to pick one and stick to it.
Tar Pit: The Maze of Ith effect is very strong. Mystifying Maze was meant to be a fixed version of it.
Territorial Lizodon: It seems too cheap to have the option to be a Canal Monitor. Should probably cost 5?
Vaerin Infantry: Seems weak. Can it be pumped to a 2/1? or 2/2?
Wantan Disaster: Check your spelling.
Xenophobia: The ability "Protection" has been deprecated. And if it wasn't, this would be crazy powerful in this set, as creatures with no abilities already have few redeeming qualities. This card needs a complete redesign.