Rate the power level of my mardu custom commander.
Posted on Oct. 15, 2020, 4:11 p.m. by StopShot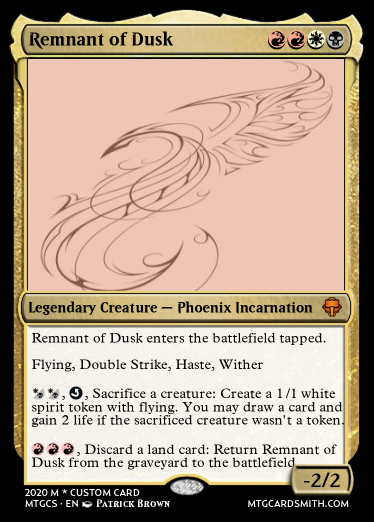 I have the feeling this might be too strong to be fair, but I wanted to run it by on what other people think.
Negative power is not a concept you see on most Magic cards, but for the most part it functions identically to 0 power, however; you'd need to give Remnant of Dust +3 power before it can start dealing combat damage. Ideally if this card is too strong I'd like to know how much negative power should be given to make it fairer if possible. Increasing the CMC and/or reanimation cost is another alternative as well.
Another uncommon mechanic this card features is wither which made its debut in the Shadowmoor set. Combat damage to players is treated normally, however; this creature deals damage in the form of -1/-1 counters to other creatures. It's more or less a water-down version of deathtouch.
Lastly it has an activated ability with an "untap" symbol which functions like the mirror opposite to the tap symbol. In order for the creature to activate that ability it must be tapped. Activating the ability then untaps the creature as part of the payment which prevents the creature from making multiple activations. In a way its like pseudo-vigilance but you got to pay for it.
I suppose all the mechanics make it some sort of monstrosity you'd expect to see in the Time-Spiral block, but I wanted it to have that feeling attached to it without going too overboard. Thoughts?