Azorius Forced Combat: Maragar, the Great Angler
In the last months, I've become a sucker for forced combat strategies. My Thantis, the Warweaver is a project of love, and I'm currently waiting for the last pieces for Saskia the Unyielding. What I'd like to build though, is an Azorius forced combat deck. I haven't found a fitting commander for that, yet. Pramikon, Sky Rampart is interesting, but feels more fitting for pillowfort. Thus, I've come up with another design for exactly that strategy: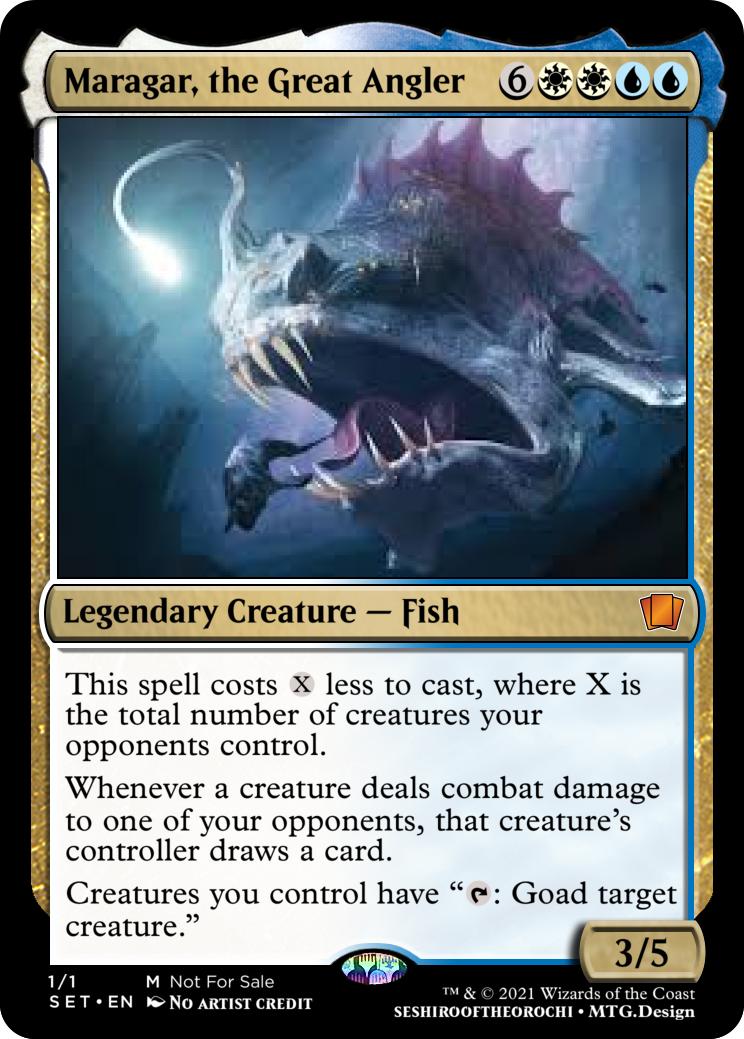 Many forced combat decks already want to give creatures to their opponents. Maragar heavily leans into that, as he can be cast for cheap if our opponents control enough creatures. After that, he basically turns all of our creatures into better Alluring Sirens. In addition, Maragar is a Coastal Piracy for all players that don't hit us, so while he has no actual protection, he'll often stay on the field because he draws all players cards. And players like drawing cards.
---
Besides lots of tokens to goad opposing creatures, the deck would propably have plenty of cards like Hunted Lammasu, Hunted Phantasm, Akroan Horse and Forbidden Orchard, combining these with some pillowforts a la Propaganda and finishing off with more Coastal Piracy and some Flying Men. Besides combat damage, Approach of the Second Sun seems like a wincon that even works flavourwise: Are your opponents stupid enough to fall for the old "sunlight in the deep sea" trick twice? Well, they deserve to lose.
---
I'd love to hear your feedback on this card. Would you change anything? Is the mana cost to low or too high? Thanks for your attention.