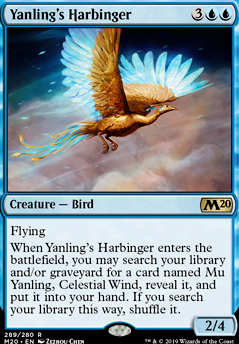 Legality
2 years ago
TIL that emojis aren't parsed properly by TappedOut even though they appear fine in the preview! Let's try again...
I've found this list really helpful whilst drafting decks over the last few years, thanks for putting it together! :) Judging by the 400,000 views that this has had I'm guessing I'm not the only person who feels that way :D
Since this list hasn't been updated since pre-WAR, I thought I'd put together a pretty comprehensive list of all tutors released since then (including all of the tutors mentioned in the comments above). Hopefully putting it in one place will make it easier to update! Note - as per the list you've curated, I've excluded any tutors that fetch specific cards (e.g. Yanling's Harbinger ) or basic lands. I've also left off the card types and colours since there's already enough text in the comment and it can be seen from the preview. Right - on with the list!
CARD: TUTOR FOR - ANY COMMENTS/SUGGESTED CATEGORIES
It wasn't entirely clear to me what categories the below cards should go under since they search for specific card subtypes:
Seeing as the three creators of this list haven't been on TappedOut in at least 8 months I'm guessing that this comment won't go anywhere, but at least it's all in one place for people to search for later. I'm happy to help maintain and update this list if I'm given access. (If I haven't heard back in a couple of months then I might look at creating a copy of this list and linking it here for anyone looking for an up-to-date list of tutors.)
2 years ago
I've found this list really helpful whilst drafting decks over the last few years, thanks for putting it together!
2 years ago
What's the difference between "Tutors for Tribal Cards" and "Tutors by Creature Type"? All the cards from the former are included in the latter, so why not just combine them into one or the other?
Also, I'd add the Harbingers, Boggart Harbinger, Elvish Harbinger, Faerie Harbinger, Flamekin Harbinger, Giant Harbinger, Kithkin Harbinger, Merrow Harbinger, and Treefolk Harbinger.
Also, my search for Harbingers turned up Nahiri, the Harbinger, which goes in "Notable For: Jumping Through Hoops," and Yanling's Harbinger, which brings up the Planeswalker Deck tutors. Sure, people are unlikely to run them, but some might.
I'd also like to suggest a category: Combo Tutors. These are the ones that are part of a combo AND search for another one of the pieces. Ones that come to mind are Godo, Bandit Warlord and Forerunner of the Empire. Godo tutors for Helm of the Host, which he goes infinite with, and Forerunner tutors for Polyraptor, and from then you simply need to give Forerunner indestructible and then play Polyraptor to go infinite with.
Lastly, I'd suggest changing "Tutors to Graveyard" to "Tutors w/ Graveyard Synergies," so you can include cards like Mausoleum Secrets, Fiend Artisan and Diabolic Intent, which interact with the grave while not tutoring TO the grave. Dimir House Guard would still go here, since his tutor effect merely discards him, he IS a sac outlet, and many graveyard deck will still desire him for it.