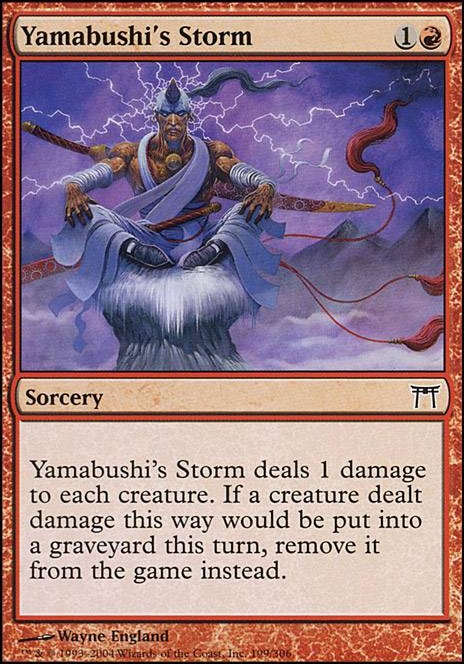 Yamabushi's Storm
Sorcery
Yamabushi's Storm deals 1 damage to each creature. If a creature dealt damage this way would be put into a graveyard this turn, remove it from the game instead.
Browse Alters
Legality
| | |
| --- | --- |
| Format | Legality |
| 1v1 Commander | Legal |
| Block Constructed | Legal |
| Canadian Highlander | Legal |
| Commander / EDH | Legal |
| Duel Commander | Legal |
| Highlander | Legal |
| Legacy | Legal |
| Leviathan | Legal |
| Modern | Legal |
| Oathbreaker | Legal |
| Pauper | Legal |
| Pauper EDH | Legal |
| Tiny Leaders | Legal |
| Unformat | Legal |
| Vintage | Legal |
| Casual | Legal |
| Custom | Legal |
| Quest Magic | Legal |
Latest Decks as Commander
Yamabushi's Storm Discussion
3 years ago
Thanks for the suggestions Joumba and the like! Both Pyrohemia and Fiery Confluence were in my considerations, but I decided to cut them.Fiery Confluence I am still considering due to its flexibility, but I am now straying from enchantments and leaning towards instants and sorceries because they have more synergy with cards such as Past in Flames, Mystic Retrieval, and Kess, Dissident Mage. Because I'm investing in cards to fill my graveyard, running into opportunities to recast Reanimate or Stitch Together into Elesh Norn, Grand Cenobite or like become much more relevant. Whereas, the only way to recur my enchantments is Open the Vaults. That being said, I am considering taking out Open the Vaults and Marshal's Anthem for a few other cards.Two being Winter Orb because I rely heavily on artifact ramp so it shouldn't hurt me as bad as the rest of my opponents and Mesmeric Orb to help with milling myself.Also, considering Armageddon. A little spiky (and I know this deck is essentially built to do the same thing, but I feel because I'm taking a longer route to get there, it's not as bad :p)
Also, I really like Yamabushi's Storm. I may consider this in the build, however, atm in my meta I am the only one who owns a Crucible of Worlds. If they eventually get one, I probably will throw this in there. One thing to note though, if my combo is in action, and I have an Elesh Norn, Grand Cenobite out, my opponents wont be able to play lands because they will die as they etb.
Thanks again!!!
3 years ago
Nice deck mate! really imaginative! (+1)
Since you play , cards like Pyrohemia, Fiery Confluence and Yamabushi's Storm (for complete removal, in case your opponent(s) have a Crucible of Worlds) could perhaps bring the heat down on those frail swamp creatures you bring forth.
Have a nice one!