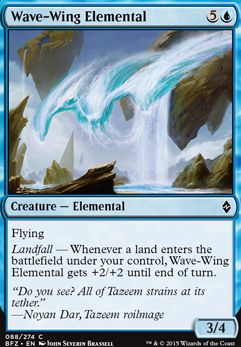 Wave-Wing Elemental
Creature — Elemental
Flying
Landfall — Whenever a land enters the battlefield under your control, Wave-Wing Elemental gets +2/+2 until end of turn.
Latest Decks as Commander
Wave-Wing Elemental Discussion
3 months ago
Part 2
Other Cards that you could consider cutting
Other Cards that you could consider adding
This is where the fun begins and your wallet cries
That is all I can think of at the moment. I'm sure I'll have more la
2 years ago
Don't know if you are still running this at all, but Tilling Treefolk is an upgrade over Cartographer. I have been fiddling with a more midrange build that goes Bant instead of Naya with Growth Spiral for ramp and instant speed shenanigans and Territorial Baloth and Wave-Wing Elemental as payoffs while still using Steppe Lynx, Jaddai Offshoot, and Snapping Gnarlid; Lynx and Gnarlid for earlier pressure and the Offshoot to stay in the game.