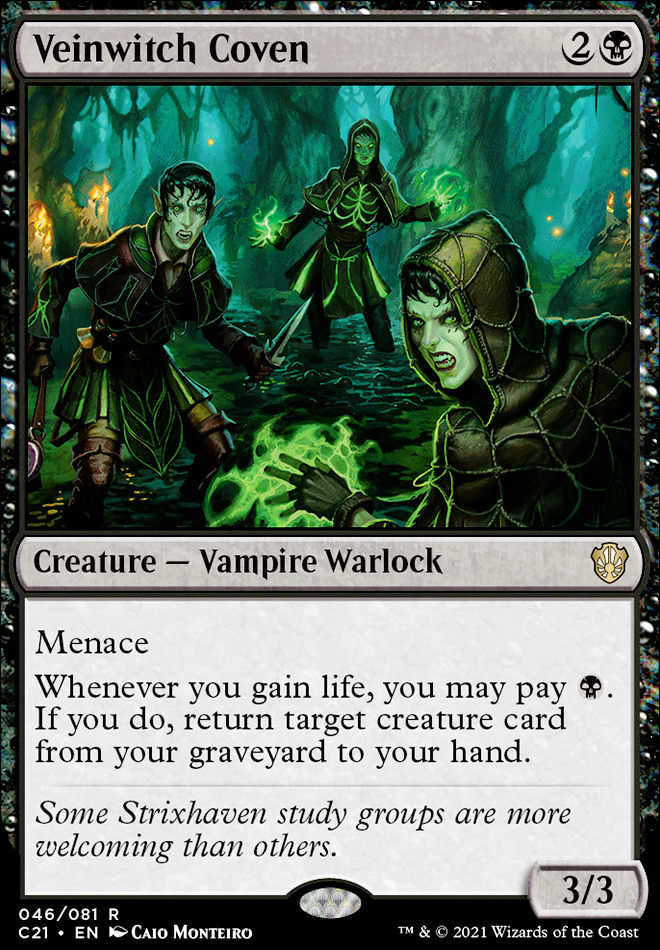 Veinwitch Coven
Creature — Vampire Warlock
Menace
Whenever you gain life, you may pay . If you do, return target creature card from your graveyard to your hand.
Browse Alters
Legality
| | |
| --- | --- |
| Format | Legality |
| 1v1 Commander | Legal |
| Canadian Highlander | Legal |
| Commander / EDH | Legal |
| Duel Commander | Legal |
| Highlander | Legal |
| Legacy | Legal |
| Leviathan | Legal |
| Limited | Legal |
| Oathbreaker | Legal |
| Tiny Leaders | Legal |
| Vintage | Legal |
| Casual | Legal |
| Custom | Legal |
| Quest Magic | Legal |
Latest Decks as Commander
Veinwitch Coven Discussion
3 weeks ago
I know you wanted to stay away from vampires, but Veinwitch Coven simply has too perfect of a name to not be included. (That sentence sounded weird. Is the grammar correct?)
1 month ago
BrassLord goodness gracious this'll take a second to go through!
Crypt Ghast seems perfect, that one's going in. Urborg --why not?
Mox Amber seems like it would just draw hate, most of my ramp sits at two anyway so I don't think it accelerates me too much.
Veinwitch Coven looks like fun, I should be able to find a place for it.
Oathsworn Vampire is ideal, 100% going in.
As far as the AltarMantle combo goes, I think I like it! I'll use Callous Bloodmage .
Sensei's Divining Top sure is a good card. I always forget about it, because--to be quite frankly honest--I don't want to buy one. But this is my no-holds-barred deck, so it should definitely go in!
I'm definitely trying to keep the average cmc down as much as possible, but I'll consider Savra .
Thank you so much for taking all that time to make such a detailed comment!
1 month ago
Crypt Ghast and Urborg, Tomb of Yawgmoth would be a good way to generate a bunch of mana in addition to getting lifegain triggers from extort! With any 2cmc commander Mox Amber is a decent ramp spell for 0! Also I saw Veinwitch Coven put in a lot of work at prerelease!
Bloodthirsty Aerialist and Scion of the Swarm also seems to gel really well with your deck, getting HUGE with lifegain triggers and also providing a big body for your commander's other ability! Something like Sanctum Seeker also seems like it'd work, doubling down on your commander's trigger.
Oathsworn Vampire also seems like it should go infinite somehow in your deck, I'm trying to find a way!
I don't know if I don't see it, but you have both the altar and Deathmantle in the deck, which also goes infinite with any creature that can make tokens, something like Grave Titan or anything with Fabricate like Marionette Master , which if you can make enough tokens can get you infinite ETBS as well as make your commander infinitely big!
You're also running both Aetherflux and Bolas's Citadel, you can make it an infinite with Sensei's Divining Top , where you cast it then do the draw trigger to put the top on top of the library, then cast it again, all while gaining life from the Resovior. Though running any combos comes down to preferance!
While a little more CMC Noxious Gearhulk Ikra Shidiqi, the Usurper and Savra, Queen of the Golgari all seem to be what you'd like in the deck! And if you lean into the sacrifice, Black Market can be another decent way to get a lot of tokens!