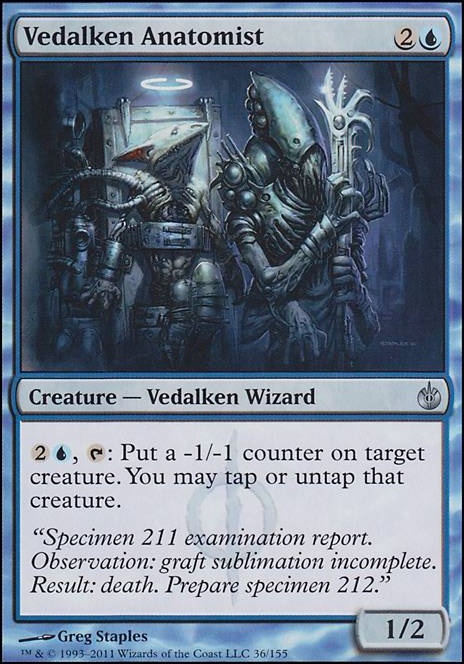 Legality
4 years ago
Perhaps rather than Vraska the Unseen , I'd go with Black Sun's Zenith .
And without a way to get things back from the graveyard, Grisly Salvage doesn't seem worth it. Instead maybe use Carnifex Demon or Flourishing Defenses .
Also adding blue would give access to things like Deepglow Skate , Skeleton Ship , Vedalken Anatomist , Fuel for the Cause , Corrupted Conscience , Viral Drake , Thrummingbird , and most importantly, Inexorable Tide . Add Thassa, God of the Sea to make your creatures unblockable, while giving a scry each turn, and it seems like it should be an easy.
So overall, I think the deck would be better dropping either dropping green completely and replacing it with blue, or dropping cards like Vraska the Unseen , Golgari Charm , Putrefy , and Scuzzback Scrapper and replacing them with the blue cards mentioned above.
7 years ago
So I, like many of you, am sitting in a place of giddy excitement as I wait for my new Breed Lethality deck to arrive. I knew it was the one I wanted the very moment they were spoiled, and I was Vindicated to see it outselling even the much-touted Bromance (which is also a completely solid choice, along with everything but Yidris).
Anyway, as I sat waiting, I got to looking through my old cards, plucking out anything that looked particularly juicy for the new deck. My landbase is upper-mediocre for sure, and I still need to grab a few pricier staples (i.e. Archangel of Thune and Doubling Season), but I actually found a surprising number of cards which may totally merit a spot in the lauded 99.
Basically, what I'm hoping to get out of this thread is to pick a few other players' brains about how good my card choices are. If you see something that's like a "OMFG holy shit definitely put that in there," let me know and explain why. If you see anything that's like a "Wow, I maybe see what you were thinking, but that will honestly serve you no good at all," then do the same. With no further ado:
LANDS
Not actually sure how good Horizon Canopy is going to be in an EDH deck with LOTS of 4/5/6-drops. Might be looking to trade this for a bunch of less expen$ive and more useful cards.
'WALKERS
-
- SORCERIES/INSTANTS
So yeah...if anyone can offer any reasons that any of the above cards would or wouldn't be good choices, I'm all ears. Budget is a concern (I already have all the cards on this list)), but I'm WAAAAY open to hearing better suggestions than the ones I made.
Atraxa is the tits, guys and girls. I haven't been this pumped for a new commander since Kaalia and Animar. Let's put our heads together and perfect this like I know we can.