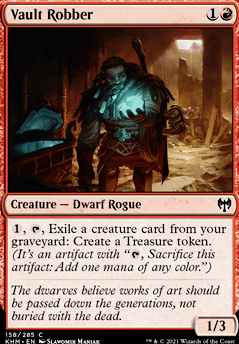 Vault Robber
Creature — Dwarf Rogue
, , Exile a creature card from your graveyard: Create a Treasure token. (It's an artifact with ", Sacrifice this artifact: Gain one mana of any colour.)
Latest Decks as Commander
Vault Robber Discussion
4 months ago
Sup lobsternips!
As a baseline, you'll need to add lands, which I'm sure you know. Since you're making Treasure and Gold tokens in this deck you'd probably be good with roughly 34-36 lands, leaning more to the most mana color you'll need, say like a 25/25/50 split if thats what you're going for.
That basically does it for my brief review, hope I was of some help!
6 months ago
Hello! Thank you for your advice on my budget deck. I had a few ideas that might work to help with yours as well.
I might swap out Arcane Signet for Everflowing Chalice . While Chalice doesn't get you red mana, it is a variable cost-efficient mana rock. You can burn down extra treasures to boost Chalice's multikicker to get enduring mana at a 1 for 2 ratio.
For boosting your dwarf tribal and getting more dwarves out, Brass Herald might be useful, I don't see it being as strong as Coat of Arms, but in the right situation it might compete with Obelisk of Urd.
I could also see Fearless Liberator being more useful than some of the dwarves you have already. Rimrock Knight also gets you some extra utility on a 3/1 dwarf which could be useful. Vault Robber seems ideal for Magda, as when she is out you can get two treasures on a single tap.
For draw, I think both Conqueror's Galleon  Flip and Trading Post could be quite useful. Conqueror's foothold can start out as a great blocker and dwarf tapper, and can transform into ramp, looting, card draw and card return. Trading Post can get you life, blockers, draw and return artifact cards, I could see it comboing particularly well with Spine and Meteor Golem.
Lastly... I don't think this is necessarily a good board wipe, but a fun one in combination with Magda and might work pretty good with your giant dwarves would be Brawl . If nothing else you get some treasures while everyone blows up each others creatures.
7 months ago
I've noticed some of the Kaldheim token-creating cards don't have the tokens linked - I don't know how much of the set this is an issue for, but ones that are definitely on the list include: