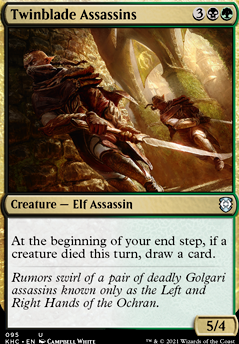 Twinblade Assassins
Creature — Elf Assassin
At the beginning of your end step, if a creature died this turn (was put into the graveyard from the battlefield, tokens enter the graveyard before ceasing to exist), draw a card.
Browse Alters
View at Gatherer
Legality
| | |
| --- | --- |
| Format | Legality |
| 1v1 Commander | Legal |
| Arena | Legal |
| Block Constructed | Legal |
| Brawl | Legal |
| Canadian Highlander | Legal |
| Casual | Legal |
| Commander / EDH | Legal |
| Custom | Legal |
| Duel Commander | Legal |
| Gladiator | Legal |
| Highlander | Legal |
| Historic | Legal |
| Legacy | Legal |
| Leviathan | Legal |
| Limited | Legal |
| Modern | Legal |
| Oathbreaker | Legal |
| Pioneer | Legal |
| Pre-release | Legal |
| Standard | Legal |
| Tiny Leaders | Legal |
| Unformat | Legal |
| Vintage | Legal |
| Standard | Legal |
Latest Decks as Commander
Twinblade Assassins Discussion
8 months ago
Labone I'll preface this by saying I have not quite developed this deck to its fullest potential. My casual playgroup finds this deck very frustrating to play against in the casual meta, so I've abandoned it for now unfortunately.
For the planeswalker, Vraska the Unseen was originally in Garruk, Cursed Huntsman's spot. I choose Garruk for two reasons: he has card draw attached to removal which can net two two cards per dead creature when combined with Chevill. And secondly I simply like the theme of Garruk better. Any Vraska would still be a good addition, but I would personally not use Vraska, Swarm's Eminence for reasons I will explain below.
This is not a deathtouch tribal deck, this is a removal tribal deck. The difference being that this deck values simple removal spells such as Doom Blade over good deathtouch creatures such as Vampire Nighthawk.
From the cards you mentioned: Hooded Blightfang, Leyline Prowler, Vampire Nighthawk, Poison-Tip Archer, Ochran Assassin, Hornet Queen, Archetype of Finality, Gifted Aetherborn are all deathtouch creatures. While they are good creatures on their own, they are not the focus of this deck so they are left out for lower CMC removal spells.
Titan Hunter isn't a bad idea, lifedrain is a viable win condition for this deck.
Twinblade Assassins: Essentially a worse Deathreap Ritual. It would be a good add if the deck was in need for more draw, but I'm okay with the amount of draw this deck currently has.
Ravenous Chupacabra: A very mana inefficient removal spell. Without any recursion in the deck to make it shine, it doesn't stand up to the many 2 drop removal spells.
Royal Assassin isn't bad, but it is very conditional. I would rather go for a Stronghold Assassin or something else that has no conditions.
Hope this helps.