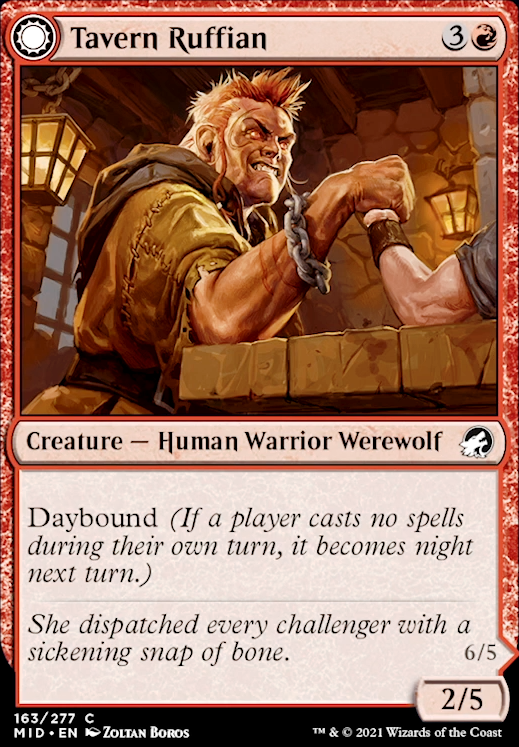 Back:
Tavern Smasher
Tavern Ruffian
Creature — Human Warrior Werewolf
Daybound (When this enters the battlefield, if it's not day or night, this game becomes day for all players. If a player casts no spells during their own turn, this game becomes night for all players next turn during the untap step. When it becomes night, all permanents on the battlefield transform into their nightbound side if they have one, and any new permanents that enter the battlefield will enter on their nightbound side if they have one. Becoming day/night does not use the stack and cannot be responded to.)
Latest Decks as Commander
Tavern Ruffian Discussion
1 month ago
Eh, I'd say that Child of the Pack seems to be going for some extreme contrast between a frail child and an extremely buff werewolf. Like, you would see this little red ridinghood-lookin shit and think, "Heh, she's just a kid, what can she possibly do?" only to shit your pants upon realizing what her werewolf form looks like.
Plus that werewolf we got in AFR has a feminine figure, so female werewolves aren't completely out of the picture.
I would think that something like Tavern Ruffian  Flip looks kinda sus cuz certain features like the hairline and jawline just do not do her human form any favors.
2 months ago
Hey, well done, nice version and foil Huntmaster. You're a better deck builder than you think, but you did forget Sol Ring ;)
There's some cards here that aren't as good as others. The only sorcery speed removal you should play are board wipes that can kill more than one thing. Single effect removal is always better as instant that way you can respond to something an opponent does. Rabid Bite is not good when Beast Within and Chaos Warp are options. Decimate is fine since it can target more than one thing among many players. Blasphemous Act is an example of a strong creature board wipe in muliplayer Commander where it can be consistently cast for only one mana. Vandalblast can destroy all your opponents artifacts.
Human Werewolves who are 5, 4, 3 CMC who only have one ability such as trample or reach and don't give you anything else when transformed or on the backside of the card are really subpar compared to all the other much better Werewolves here. Tavern Ruffian  Flip, Tireless Hauler  Flip, Harvesttide Infiltrator  Flip, Bird Admirer  Flip, Ulvenwald Mystics  Flip, Burly Breaker  Flip could all be cut. Some Human Werewolves who could replace these: Reckless Stormseeker  Flip, Realmwalker, Breakneck Rider  Flip, Village Messenger  Flip.
---
There's 5 sources of ramp here which is low amount with only 33 lands. With 33 lands then you really need more ramp, 10 or more sources. 0-2 CMC ramp is best because ideally you want to cast ramp in the early turns of the game when you don't have very many lands. 0-2 CMC ramp can replace lands since getting two lands is not as difficult as getting three or more. Sol Ring and Arcane Signet are staple budget ramp sources in Commander. Thought Vessel is helpful for more no max hand size and/or Crop Rotation to get Reliquary Tower.
Some colors have problems with having enough ramp options, but when playing green that's not a problem and you can take advantage of land ramp spells that can get a dual land Stomping Ground or Cinder Glade: Nature's Lore, Three Visits, Farseek and Harrow is nice basic land ramp. These ramp sources could replace: Bounding Wolf, Howl of the Hunt, Unnatural Moonrise, Mage Slayer.
---
Some changes to consider:
Good luck with your deck.
3 months ago
Hey, good attempt for a budget version of Tovolar. nice Aggravated Assault. You've mistakenly added two Tovolar's Huntmaster  Flip :)
The card that combos with Spellbinder is Savage Beating for extra attacks which is now a $30 card. Without having Beating then Spellbinder is not worth playing because there's only 5 instants here out of 94 other cards.
When you control five or more lands then Bear Umbra enchanted to a creature who can keep attacking can pair with Aggravated Assault for extra attacks. Attacking with five or more creatures makes Druids' Repository combo with Assault. Savage Ventmaw who can keep attacking combos with Assault and also makes infinite green/red mana. Umbra could replace Spellbinder, Repository could replace Mantle of the Wolf and Ventmaw could replace the other copy Huntmaster.
---
Consider more one, two, three drop Werewolves to replace the vanilla four and five drop Werewolves?
Some of these could replace:
A couple of reasons for these changes is to get three or more Werewolves onto the battlefield to transform Tovolar quicker and have more Werewolves that can give you value rather than just only being Werewolves.
---
Some lands to consider adding, replacing of some basic lands.
Good luck with your deck.