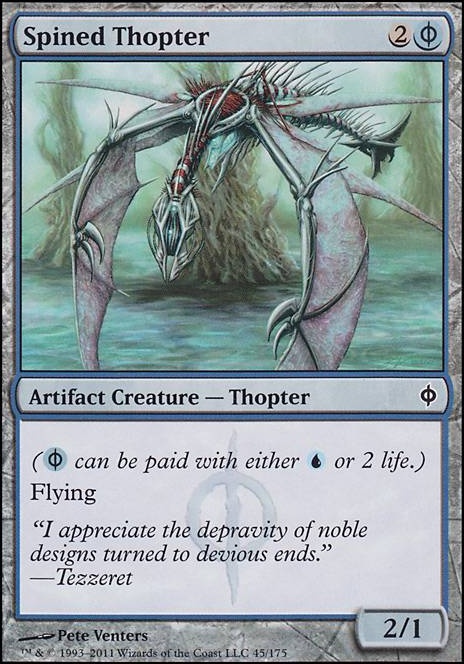 Legality
6 years ago
it's great i love it
I would just tune it up by fixing the curve so you have relevant things to do turn 1 and/or 2 like Inquisition of Kozilek/Thoughtseize, or maybe Mana Leak/Miscalculation. It would be really great to find some more 1-2cmc creatures that are worth it. I think Spined Thopter is probably just too weak. I am a huge fan of Brain Maggot/Mesmeric Fiend
you're using proxies for this right? You definitely want all 9 fetchlands (all but Windswept Heath)
I would replace soul manipulation, recover, forbidden alchemy, smash, maybe other stuff for 1 or 2cmc cards. Like forbidden probably should just be Preordain. Also treasure cruise is banned now :C
I'm surprised you don't have more sacrifice outlets like Goblin Bombardment but there's a lot going on here already!
7 years ago
Stumbled across this randomly...
I don't play much Modern, but general advice to new players is to get the number of different cards down. Spined Thopter, for example, is just kind of randomly here. Look to replace him with another copy of something you like, such as Zombie Outlander, or whatever, do the opposite - more thopter, less zombie. You want fewer 1x and 2x cards and more 3x and 4x cards. It will improve your consistency game-to-game. This is the first lesson that will help you build stronger decks on your own.