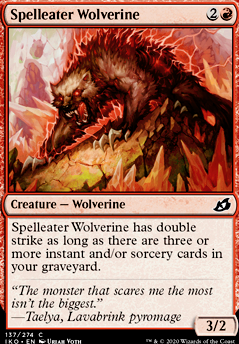 Spelleater Wolverine
Creature — Wolverine
Spelleater Wolverine has double strike as long as there are three or more instant and/or sorcery cards in your graveyard.
Latest Decks as Commander
Spelleater Wolverine Discussion
1 year ago
Version 2.2. Ikoria booster draft best picks. -Jinxed Idol, +Sleeper Dart // -Status / Statue, + Boneyard Lurker // -Silverflame Squire, +Fight as One // -Counsel of the Soratami, +Of One Mind // -Wind Strider, +Archipelagore // -Lost Legion, +Grimdancer // -Vindictive Vampire, +Dirge Bat // -Samut's Sprint, +Heightened Reflexes // -Ferocity of the Wilds, +Spelleater Wolverine // -Charmbreaker Devils, +Everquill Phoenix // -Tishana's Wayfinder, +Ram Through // -Colossal Dreadmaw, +Kogla, the Titan Ape //-Mercurial Geists, +Sprite Dragon.