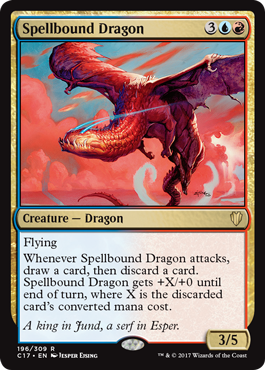 Legality
2 months ago
Hi everyone! At long last I've updated the list with some of the ancient dragons that I think will work best in the deck list.
The first is, unsurprisingly,
Ancient Silver Dragon
. I've long wanted a good card draw piece on a stick for this deck, and this is the best we could have hoped for. It's unfortunate that it gives us no maximum hand size since it will be harder to discard dragons that way, but we'll take it anyway. We cut
Spellbound Dragon
for it. This card was always great utility since we could discard a dragon with it, and at least once it gave me enough commander damage to win the game. That being said, it's one of the weaker links in the deck so he's retired with honors.
The second is actually Ancient Gold Dragon. Kudos to AJohnney101 for pointing this out! It's not just good with Dragon Tempest. It's also good for our other cards that care about the number of dragons attacking, such as Kolaghan, the Storm's Fury who can easily kill a table with enough dragons on board, or to a lesser extend Dromoka, the Eternal. It can also wipe any board with Silumgar, the Drifting Death or add some 6/6s to the 1/1s with Utvara Hellkite. There's just a lot of combos and lines of play here that are really good. We'll cut Kairi, the Swirling Sky for it which isn't super great and certainly nowhere near as great as this.
Ancient Brass Dragon intrigued me initially, but at best it's a second copy of Teneb, the Harvester that doesn't take mana to activate, but which will whiff sometimes. Having a second copy of Teneb is considerable, but the risk of whiffing is as well, so I'm still on the fence.
Ancient Copper Dragon is also amazing and I wouldn't critique anyone adding that, but I think I'm good at the moment with Old Gnawbone and Savage Ventmaw for rampy dragons and am not at the present time investing a slot or money in it.
I also think AJohnney101's suggestion of Miirym, Sentinel Wyrm is intriguing. I can definitely see the value in making copies of not just Miirym but other dragons we want to reanimate, and there would be a lot of fun to be had with mass reanimation on this one. The ward is also not nothing, as this could also be played to nullify removal at Scion if someone holds up one for Path to Exile of can't otherwise pay to overcome the ward. I'll definitely keep this in mind!
AJohnney101
Thanks for all the fabulous suggestions! My replies are mostly in the update list above. I also agree that late game we can usually run this deck just fine without Scion. He's a great tool to get us going, but we have lots of tricks to close out the game and a great toolbox.
I don't have Fellwar Stone because I am in green and don't really need many mana rocks. Rampant Growth and its many clones do most of my work here. I've only included Chromatic Lantern because of the incredible utility it provides to my mana base. I can see the case for Faithless Looting or as AJohnney101 suggested Amass the Components and the like. That being said, I in dislike in general one-off effects in a deck like this which often just aren't as useful as a piece that could give me repeat value, but that might be just me!
Thanks for the compliment! For the BG dragons see the update above
As usual, thanks for all of your valuable contributions to the deck and primer. They appreciated!
2 years ago
Hi again.. It's me...
A low costing dragon that may also help with some ramp is Gadrak, the Crown-Scourge. He can't attack until you have a handful of artifacts, but is a good blocker until then. To make room, I think my least favorite in what you have is Spellbound Dragon.
Depending on budget... Balefire Dragon is a better option than Drakuseth, Maw of Flames because it hits ALL your opponent's creatures. But it's about US$10 more than Drakuseth right now.
Hellkite Tyrant is always awesome and a good way to get some ramp from your opponents. Who doesn't love to steal artifacts from across the table? Plus, it gives you an alternative way to win. Darigaaz Reincarnated is cool because he comes back by himself.. but you have other ways to bring things back if needed, so I'd skip Darigaaz.
For lands, I would encourage a couple of the Triome's from Ikoria. These lands are THREE colors and also can be tutor'd for with your Farseek and Skyshroud Claim if you get the Triome's that say "Forest" (Zagoth Triome, Ketria Triome, and Indatha Triome). This will help make sure that you can find a land that has the color you need... which could be any of the colors. Triomes are still a bit expensive right now, but that might never change.
2 years ago
I would cut:
Creepy Doll: An okay deterrent but 5 mana is a good chunk for this effect.
Lorthos, the Tidemaker: Not the best giant sea creature for your deck. Ideally you only pay 2 mana to cast this but then you need 8 mana for its effect. 8 mana would be better spent 95% of the time suspending 4 cards.
AEtherplasm: You have better Jhoira replacement effects already in the deck. You are dependent on your opponents though for this to help you.
Spellbound Dragon: If you own It That Betrays, I'd swap it out for that.
Stormtide Leviathan: This shuts down quite a bit of your own creatures. Unless you go strictly island walk and flying then it should be cut. Also a good swap out for your maybe board Ulamog if you own him.
Knowledge Pool: I love this card. Though, outside of Lavina decks and chaos it isn't that good. Once an opponent steals one of your Eldrazi this feels awful.
Wild Evocation: Not bad. Fits theme but you have quite a few cheating effects outside Jhoira. This one seems more expensive and can sometimes help your opponents more.
2 years ago
Definitely a multiplayer deck since turn 4 is most likely where anything will happen for you as it stands now. Wouldn't try one on one with this one unless you play another slow deck.
Jeleva, Nephalia's Scourge, Mairsil, the Pretender

, and Kess, Dissident Mage are all better alternatives to Spellbound Dragon. I feel they fit your disruption technique better and are very cheap ($). To help with getting quicker spells out, there is Dismember that can be paid with life to get out sooner or Sign in Blood. Not cheap, but a really good early game player, is Baleful Strix.
This looks really fun in multiplayer. So I don't blame you if you keep it as is. I feel like it would make everyone so annoyed. I also like Swerve a lot. I have 4 in my Izzet deck.
2 years ago
NeonEndymion Just getting around to look at your comments in more details now.. I remember looking at Magmaquake earlier and it would be great if it wasn't for that double red mana and Jegantha... lol
Considered your advice and made the following changes: Feels like it made an overall improvement to the deck, I will add Dragonlord Silumgar and Fire Covenant when/if I manage to get my hands on them. Thanks again for the help.
In: Heroic Intervention - Out: Arcane Denial
In: Steely Resolve - Out: Path to Exile
In: Morophon, the Boundless - Out: Chromium, the Mutable
In: Ramos, Dragon Engine

- Out: Hypersonic Dragon
In: Steel Hellkite - Out: Spellbound Dragon
In: Rhythm of the Wild - Out: Negate
4 years ago
So... this is coming from a hardcore blue mage who tries to abuse cards as much as possible.
I think you could have a pretty sweet chain reaction thing going on here. Ur-Dragon lets you get out permanents whenever a Dragon attacks, so maybe you could go for a weird aggro-y, storm-y, combo-y thing. I don't know. Just look at these cards and this game plan, tell me what you think.
The game plan would be to durdle for the early game, play dragons mid game, then late game, come out of nowhere with a lethal-damage chain reaction: Play permanents that draw based on you attacking, and creatures that give mana based on attacking. You would proceed to attack, get draw triggers from things like Edric, Spymaster of Trest, mana triggers from things like Savage Ventmaw, and an Ur-Dragon trigger. Play a permanent that gives extra combat phases, activate it. Repeat from the part where you attack. This list would inevitably have a few ways to go infinite (Savage Ventmaw + Aggravated Assault = good game), but that wouldn't happen a lot. Mainly you would just be attacking 3 times a turn for lethal damage from your commander alone.
I don't know your budget or playstyle, but those are my thoughts. I'd love to hear what you think!
Load more