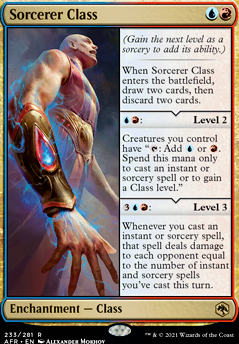 Legality
Sorcerer Class
Enchantment — Class
(This enters the battlefield at Level 1. You may increase this enchantment's level by one by paying the appropriate costs. Activate to increase the level only as a sorcery.)
Level 1
When this enters the battlefield, draw two cards, then discards two cards.
---
: Level 2
Creatures you control have ": Gain or . Spend this mana only to cast instant or sorcery spells or to gain a Class level."
---
: Level 3
Whenever you cast an instant or sorcery spell, that spell deals damage to each opponent equal to the number of instant and sorcery spells you've cast this turn.