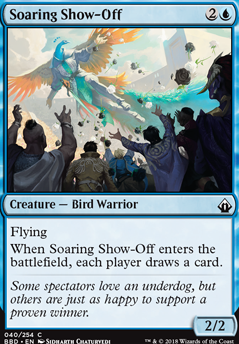 Soaring Show-Off
Creature — Bird Warrior
Flying
When Soaring Show-Off enters the battlefield, each player draws a card.
Browse Alters
Legality
| | |
| --- | --- |
| Format | Legality |
| 1v1 Commander | Legal |
| Canadian Highlander | Legal |
| Commander / EDH | Legal |
| Duel Commander | Legal |
| Highlander | Legal |
| Legacy | Legal |
| Leviathan | Legal |
| Limited | Legal |
| Oathbreaker | Legal |
| Pauper | Legal |
| Pauper EDH | Legal |
| Tiny Leaders | Legal |
| Vintage | Legal |
| Casual | Legal |
| Custom | Legal |
| Quest Magic | Legal |
Latest Decks as Commander
Soaring Show-Off Discussion
2 years ago
I was thinking about the concept and got to the conclusion that Jace's Phantasm will most likely work in tempo deck, since phantasm costs . I don't see it as much as card for control deck because when is your control online you might play better threats.
Tempo deck is about denying your opponent resources and Soaring Show-Off does the opposite in form of cards (even in the best scenario when you could chose which card your opponent will not have) is not worth it, you just gave him 1 card. But if you want to play the deck as pure control, then it is probably playable since you can control well enough what is in your opponents hand.
Another way how to make discard more viable is Wight of Precinct Six since the more stuff ends up in bin the bigger (likely) this become and you can play it in control.
Previously I used Shriekgeist but now I think that Mind Sculpt might be better because it is more effective even if it is by your words more "boring". I build a mono blue deck for this simply because 1 color works better for tempo: Mono Phantast.
Sage's Row Denizen: I would switch/combine with Ink Dissolver and played it as aggro (a lot of creatures) and build on the wizard/merfolk tribe. Not sure how it will perform since you would not control the game much and mill takes a lot of time to work.
About Vile Rebirth and Beckon Apparition it might work in deck build around Thoughtpicker Witch. The trick is that you control the top of opponent's library. I tried it before and it didn't work but maybe there is a way how to make it work. Also I would include Shamble Back since it does the same as Vile Rebirth but for the loss of instant speed you gain 2 life.
Hope we get to some spicy deck.
2 years ago
Kurush: Thanks for taking the time to comment, and to start: Yes, I agree with you, on both accounts. I didn't have the space left to give this deck the "Jank" label also. =P
Secondly: Yeah, I'd totally be interested in collaborating! Two heads are better than one, as they say. =)
I've done some playing with this deck and Selhoff Occultist was a tragic underperformer. It was a weird idea that I should have known better to try, but, eh. Weird ideas are what I do. I've been considering multiple options as a replacement, such as:

As far as Vile Rebirth and Beckon Apparition, you're right again. And again, I'll use just "creativity" as an excuse, lol. They are cool cards, and I still think they could be built-around, but this probably isn't the place for supporting that experiment also. =(
Anyway, I've checked out your decks, and I'm definitely going to borrow some of your card choices. I still want to add Soaring Show-Off though. =P =D
Let me know what you think about my ideas for replacements. =) Meanwhile I'll pick something and give it a few plays soon. Let you know how it went.
2 years ago
Nice! +1, and thanks for shout-out! =)
There's also Soaring Show-Off from Battlebond, for a flying version of the Servitor.