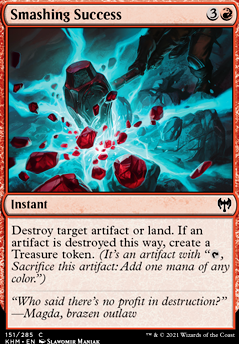 Smashing Success
Instant
Destroy target artifact or land. If an artifact is destroyed this way, create a Treasure token. (It's an artifact with ", Sacrifice this artifact: Gain one mana of any colour.")
Latest Decks as Commander
Smashing Success Discussion
2 months ago
Def feel the vibe of this deck. It did feel as though it needed to be consistently faster though.
Possible cuts:Arch of Orazca, Frostboil Snarl, Desert of the Mindful, Path of Ancestry, Spirebluff Canal, Sensei's Divining Top, Smashing Success, Fire Servant, Niv-Mizzet, the Firemind, Experimental Overload, Spelltwine, Tidings, Ral, Storm Conduit
Possible adds: Fellwar Stone, Fire Diamond, Lotus Petal, Coldsteel Heart, Talisman of Creativity, Jeska's Will, Mana Geyser, Stormcarved Coast, AEtherize, Mizzix's Mastery, Tezzeret's Gambit, Cyclonic Rift, Archmage Emeritus, Electrostatic Field, Zaffai, Thunder Conductor, Snapcaster Mage, Archeomancer, Wandering Archaic  Flip, Electrodominance, Narset's Reversal, Chaos Warp, High Tide, Fuel for the Cause, Mindswipe, Steady Progress, Repeated Reverberation, Crackle with Power, Contentious Plan, Banefire, Chain Reaction, Echo of Eons, Primal Amulet  Flip, Aetherflux Reservoir, Wayfarer's Bauble, Kozilek, Butcher of Truth, Riptide Laboratory, Karn's Bastion, Castle Vantress, Mystic Sanctuary, Riverglide Pathway  Flip
9 months ago
Lifelands ( Bloodfell Caves , Jungle Hollow , Rugged Highlands ) are just bad. Use any pathways or temples you have, then 4x Fabled Passage (you'll use this in enough decks that it's worth crafting) and the rest basics if you don't want MDFCs.
Cultivate over Tangled Florahedron.
Smashing Success is pretty bad. Even in a deck with some minor land destruction themes, it's just not good. Use that slot on some kind of removal for problem creatures.