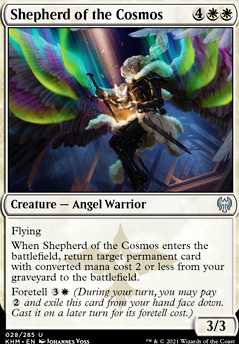 Legality
Shepherd of the Cosmos
Creature — Angel Warrior
Flying
When Shepherd of the Cosmos enters the battlefield, return target permanent card with converted mana cost 2 or less from your graveyard to the battlefield.
Foretell (During your turn, you may pay and exile this card from your hand face down. Cast it on a later turn for its foretell cost.)
2 years ago
I was hyped for probably 10 years to get a celtic mythology set and here Kaldheim came. There are some pretty neat card mechanics definitely worth to play. I was especially hyped for new Angel cards for this deck, but was utterly disappointed. And here is why:
Final thought for Kaldheim: My disappointment is immeasurable and my day is ruined.