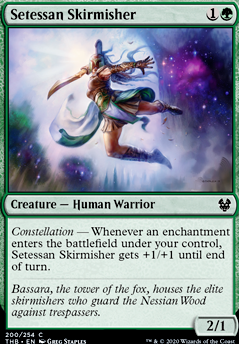 Legality
2 years ago
3x Oblivion Ring, let's call them A, B and C.
Step 1: Cast A, exile irrelevant card.
Step 2: Cast B, exile A, irrelevant card returns.
Step 3: Cast C, exile B, A returns, exile C, B returns, exile A, C returns, exile B. Infinite loop performed.
Pair this with your favourite constellation card for infinite ETB triggers.
For infinite damage use Forgeborn Oreads or Grim Guardian.
For infinite mill use Sage of Mysteries or Thassa's Devourer.
For infinite life use Nexus Wardens or Underworld Coinsmith.
For infinite power/toughness use Eutropia the Twice-Favored, Nylea's Colossus, Oakheart Dryads, Pious Wayfarer, Setessan Champion, Setessan Skirmisher or Strength from the Fallen, preferably with Humbler of Mortals or Whitewater Naiads to prevent blocking.
For infinite tokens use Archon of Sun's Grace.
For infinite draw use Eidolon of Blossoms, Setessan Champion or Shoal Kraken.