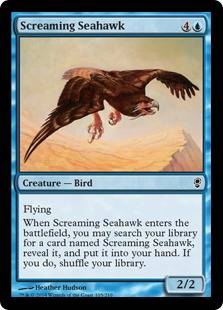 Screaming Seahawk
Creature — Bird
Flying
When Screaming Seahawk enters the battlefield, you may search your library for a card named Screaming Seahawk, reveal it, and put it into your hand. If you do, shuffle your library.
Latest Decks as Commander
Screaming Seahawk Discussion
5 months ago
Unless you're playing with some funky homebrew rules, your commander does have to be a legendary creature. For bird tribal, Kangee, Aerie Keeper or Kangee, Sky Warden would be the most obvious choices. Also, Screaming Seahawk does not get around the singleton restriction in the same way something like Relentless Rats does. Even if it did, I still don't think it would be worth running over the much faster Squadron Hawk . More relevant inclusions might be Watcher of the Spheres , Warden of Evos Isle , Soulcatchers' Aerie , Migratory Route , Wingmate Roc , Aven Mimeomancer , Emeria Angel , Favorable Winds , Kangee's Lieutenant , Judge's Familiar , Steel-Plume Marshal , Battle Screech , Skycat Sovereign , Pride of the Clouds , Sephara, Sky's Blade , Jotun Owl Keeper , Windreader Sphinx , Aven Gagglemaster , Thunderclap Wyvern , Jubilant Skybonder , Rally of Wings , Eyes in the Skies , Alrund's Epiphany , Aerial Assault , Rise of Eagles , Door of Destinies , Herald's Horn , Dovescape , Gravitational Shift , Kindred Discovery , Call to the Kindred , Serra the Benevolent , or Seaside Haven .
Looks like my comment is now a little redundant here, but hope the seconded advice still helps. Good luck!