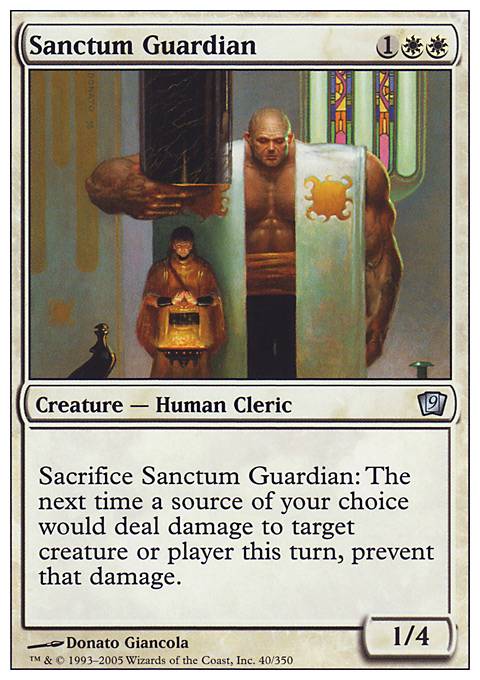 Sanctum Guardian
Creature — Human Cleric
Sacrifice Sanctum Guardian: The next time a source of your choice would deal damage to target creature or player this turn, prevent that damage.
Latest Decks as Commander
Sanctum Guardian Discussion
2 years ago
I love cleric tribal, I realize this is a jank deck but with some focus it can also be effective. I think the first trick is to synergize with your command and find clerics that can be sacrificed for gains the second is to find ways to drain their health quickly so you can focus on the first.
The best way to life drain is probably with Exsanguinate, Debt to the Deathless, Torment of Hailfire or similar spells so that your commanders to hand ability can be utilized.
The next one is not quite so easy and needs tuning to make really good, but I would recommend clerics like Benevolent Bodyguard, Children of Korlis, Dark Supplicant with Scion of Darkness, Frontline Medic, Nova Cleric, Remorseful Cleric, Sanctum Guardian and Selfless Spirit for creatures that can be utilized well with your commander and as a bonus its flavorful to have fanatical priests dedicated to some grim god.
Generally useful clerics matter cards would be Edgewalker, Ancestor's Prophet, Battletide Alchemist, Rotlung Reanimator and Whipgrass Entangler.
A little combo for Starlit Sanctum is Daru Spiritualist + Shaman en-Kor to gain some arbitrarily high life total.
In tribe Card draw considerations are Tymna the Weaver, Bygone Bishop and Twilight Prophet.
I don't know if you will continue to develop this but I would like to see your take on it as you evolve it.