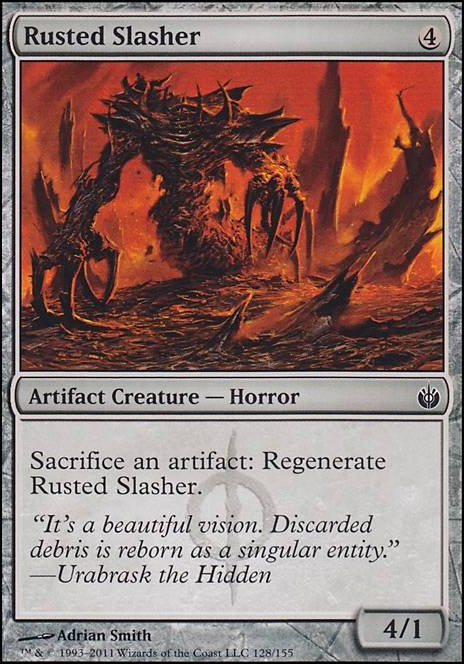 Legality
3 years ago
Spell_Slam: Great advice! Thanks for taking the time to check things out. I like all your creature suggestions, and you've inspired me to double-check, but it may be that I simply don't own some of those cards. Like Cloud of Faeries, and Gush....
Well turns out I don't own any Spellstutter Sprites or Rusted Slashers either, but the rest I found, as well as a couple other things, like Fathom Seer, to put in.
The noncreature suggestions are good too, and I'll be trying them out. Also, thanks for suggesting things to swap out, it helps making choices easier to have an outside opinion. =)
3 years ago
I like the deck a lot!
I personally would go even heavier on the X/1 side of things rather than splitting your creatures with 1/X creatures (except for the obvious good ones like Ophidian and Jhessian Thief, of course). Taking a quick look, you could think about including Phantasmal Forces and Rusted Slasher for raw power. I also really like Graven Abomination because it hits hard and also gets key pieces out of the graveyard, which your deck doesn't do very well. Otherwise, there's a ton of "high-flier" cards that are 3/1s with flying that can't block non-fliers. I imagine you excluded them because they aren't good enough, though. In terms of cuts, I would definitely think about taking out most of the equipment that pumps toughness.
I've never tried it, but Abjure seems like a decent hard-counter in your deck, considering that you're putting pressure on the opponent. Saving mana for more efficient plays by sacrificing a less-useful permanent seems worth it.
Considering you want to be the proactive player in combat, I think a great way to defend yourself would be Flood. It's mana intensive, but tapping down a few key creautres from the opponent could really swing the race in your favour.
Even if they're 1/1s, I think cards like Spellstutter Sprite and Cloud of Faeries would be great includes. They are still unblockable and hold equipment well.
Gush seems like a great option for card advantage in your deck. It also gives you stuff to loot away in the mid/late-game. I would definitely play it over Divination.
Mizzium Skin is a very effective way to protect your fragile creatures from certain board wipes like Electrickery or the occasional single-target removal.
It's hard to see a deck that is running Archaomancer and Peregrine Drake, but not Ghostly Flicker. You can get so much from just adding that last piece to your deck.
In terms of cuts, Sigiled Starfish, Proven Combatant, Select for Inspection, Storm Crow and Pardic Wanderer seem on the weaker end.
4 years ago
Personally, I don't like Rusted Slasher in this deck.
I would recommend the following:
5 years ago
Some suggestions...
---
Things i don't like in here...
Load more