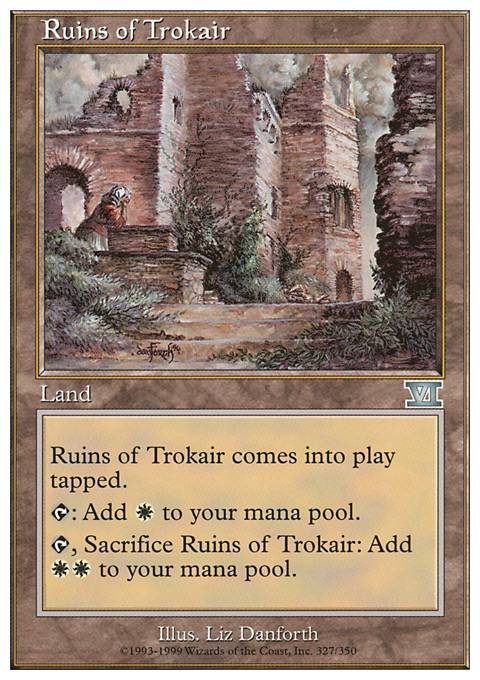 Ruins of Trokair
Land
Ruins of Trokair enters the battlefield tapped.
Tap: Add (White) to your mana pool.
Tap, Sacrifice Ruins of Trokair: Add (White)(White) to your mana pool.
Browse Alters
View at Gatherer
Legality
| | |
| --- | --- |
| Format | Legality |
| Vintage | Legal |
| Commander / EDH | Legal |
| Tiny Leaders | Legal |
| Highlander | Legal |
| Limited | Legal |
| Leviathan | Legal |
| 1v1 Commander | Legal |
| Oathbreaker | Legal |
| Canadian Highlander | Legal |
| Duel Commander | Legal |
| Casual | Legal |
| Unformat | Legal |
| 2019-10-04 | Legal |
| Legacy | Legal |
Latest Decks as Commander
Ruins of Trokair Discussion
1 year ago
Commenting here rather than on your page.
I don't mean to sound so overbearingly critical, but your deck is overall lacking in substantial board presence. Oathbreaker is a format in which you want to protect your Planeswalker at all viable costs. You have four creatures. That does not make for a very strong base. I'm going to rip into this deck, but I am also going to offer you suggestions on how to greatly improve upon it :) I hope that you don't take offense to anything I am saying, but I felt like I can do you some good here.
As for a win condition outside of Form of the Dragon , there is also Martial Coup . Since you are snuffing out all of your opponent's lands anyway, as well as their creatures, why not create a literal army of tokens that now stand unopposed?
There is also Curse of Bloodletting , which makes your Form of the Dragon deal 10 damage instead.
You may also want to consider replacing Mudhole with something more viable. Perhaps Lightning Helix ? It burns and gets you life. Acts as another win condition, makes it harder for your opponent to win in the process as your life totals grow farther and farther apart, and plays nicely with the aforementioned Dawn of Hope .
This took me like 40 minutes, so I hope it helps.
2 years ago
Add Cyclonic Rift, Enlightened Tutor, Rhystic Study, Mystical Tutor, Lim-Dul's Vault, Toxic Deluge, Chrome Mox, Chromatic Lantern, Sensei's Divining Top, Mana Vault, Lotus Petal, Phyrexian Arena, Ad Nauseam, Muddle the Mixture, Misdirection, Spellskite, Diplomatic Immunity
I'd suggest you take out Catastrophe, Enchanted Evening, Opalescence, Umbra Mystic, Sovereigns of Lost Alara, Sky Diamond, Ruins of Trokair, Svyelunite Temple, Ravages of War, Prison Term, Phyresis, Pentad Prism, Marble Diamond, Inventors' Fair, Curator's Ward, Charcoal Diamond, Battle Mastery, Ancient Spring
2 years ago
I used to play Ruins of Trokair as that deck's tapland. 2 White mana, early win... is it still legacy allowed?
3 years ago
i would swap the manlands and maybe tolaria west as they are suboptimal at their primary job: mana
crystal vein is such a good card as it gives you a much greater choice than any manland that always and only taps for a colorless. dont always blow it early. have the option for when you need them.for example Ruins of Trokair is much better than tolaria west. both etb tapped but ruins can give an additional mana once. these effects can beef up the timing flexibility.
4 years ago
Have you considered lands like Remote Farm and Ruins of Trokair (and their red and blue counterparts)? They are very all-in, but that's what this deck is anyway, right?