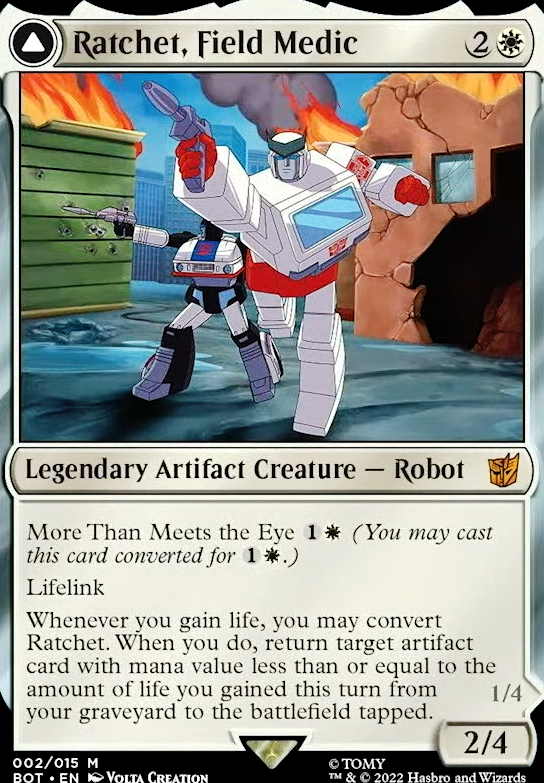 Back:
Ratchet, Rescue Racer
Flip
Legality
Ratchet, Field Medic
Legendary Artifact Creature — Robot
More Than Meets the Eye (You may cast this card transformed for .)
Lifelink
Whenever you gain life, you may transform Ratchet. When you do, return target card with converted mana cost/mana value less than or equal to the amount of life you gained this turn from your graveyard to the battlefield tapped.
5 months ago
Cuts: 1. Brudiclad, Telchor Engineer 2. Emry, Lurker of the Loch 3. Enthusiastic Mechanaut 4. Flamewar, Brash Veteran  Flip 5. Goldbug, Humanity's Ally  Flip 6. Jan Jansen, Chaos Crafter 7. Jhoira, Ageless Innovator 8. Magister Sphinx 9. Myr Battlesphere 10. Myr Moonvessel 11. Myr Retriever 12. Ratchet, Field Medic  Flip 13. Scrap Trawler 14. Sharuum the Hegemon 15. Shimmer Myr 16. Teshar, Ancestor's Apostle 17. Slobad, Goblin Tinkerer 18. Brainstorm 19. Reality Heist 20. Thirst for Knowledge 21. Mirrodin Besieged 22. The Antiquities War 23. Imposter Mech 24. Sculpting Steel 25. Shorikai, Genesis Engine 26. Dance of the Manse 27. Faithless Looting