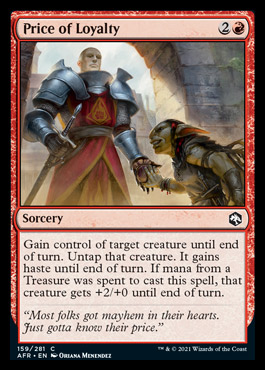 Price of Loyalty
Sorcery
Gain control of target creature until end of turn. Untap that creature. It gains haste until end of turn. If mana from a treasure was spent to cast this spell, that creature gets +2/+0 until end of turn.
Latest Decks as Commander
Price of Loyalty Discussion
1 month ago
Immersturm Predator is a must in this kind of deck. Could replace Dire Fleet Warmonger.
The Meathook Massacre could potentially replace Bastion of Remembrance. It's a board wipe and triggers when both player's creatures die.
Price of Loyalty is a weaker version of The Akroan War.
Sigardian Savior is a possible replacement for Lurrus of the Dream-Den.
There are more suggestions, but those are the bigger ones. Here's a deck of mine that follows the same concept. It isn't standard 2022 legal but has a lot of cards that are. Check it out.
---

Standard* Gingervitis
SCORE: 13 | 1 COMMENT | 1617 VIEWS | IN 5 FOLDERS
---
I have another sacrifice deck that's in black and white, and is standard 2022 legal. Check it out as well.
---

Standard* Gingervitis
SCORE: 3 | 3 COMMENTS | 96 VIEWS | IN 1 FOLDER
---
2 months ago
Hello,
I like the suggestion of Showdown of the Skalds, but you're pretty much splashing white only for 2 copies of Extus, Oriq Overlord  Flip and 4 copies of a very mediocre Sea Gate Banneret. You might as well go full Rakdos (red black) since you really should swap those 4 Sea Gate Banneret for some Forsworn Paladin anyway, and then you'd only need a single treasure or pathway on white to play the front side of Extus, Oriq Overlord  Flip.
You could probably try to squeeze in a Price of Loyalty just because it could lead to really strong turns with all the treasure/sacrifice synergies you're already running. Speaking of which, Skullport Merchant would also be a very nice fit since you don't have much 3 drops in your curve. Maybe cutting a few 1 or 4 cmc cards here and there would make sense too. A few copies of Hoarding Ogre would be the 1st things to go if I was you. Another good 3 drop would Soul Shatter since it's really strong in this meta for cards like Goldspan Dragon, Koma, Cosmos Serpent, various planeswalkers, etc, and you barely run any removal as it is which is kind of odd in these colors.
Cheers~­