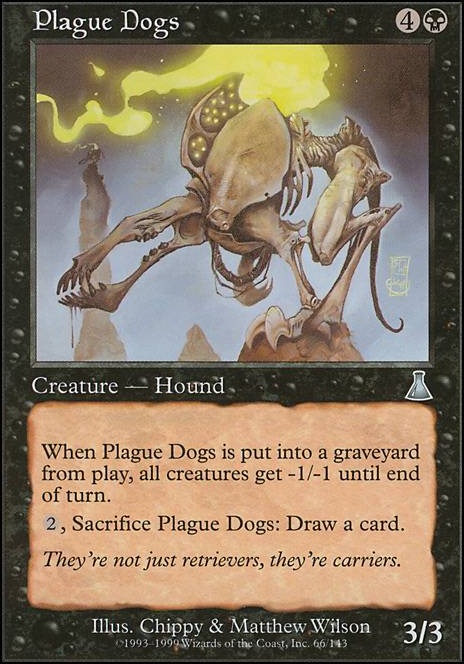 Legality
1 year ago
Engineered Plague, Contagion Engine, Contagion Clasp, Dakmor Plague, Desecration Plague, Endemic Plague, Tim Curry, Kelsien, the Plague, Necrotic Plague, Phyrexian Plaguelord, Plaguebearer, Plague Beetle, Plague Belcher, Plaguecrafter, Plague Dogs, Plagued Rusalka, Plague Engineer, Plague Fiend, Plague Mare, Plaguemaw Beast, Plague Myr, Plague of Vermin, Plague Rats, Plague Reaver, Plague Sliver, Plague Spitter, Plague Spores, Plague Stinger, Plague Wight, Plague Wind, Plague Witch, Spreading Plague, Swallowing Plague, Traveling Plague, Undercity Plague, Virulent Plague, Disease Carriers, Diseased Vermin, Exotic Disease, Quag Sickness, Spread the Sickness, Illness in the Ranks.
There, that should just about cover it.
1 year ago
You know 3n3rgy2, I thought about running Chainer but I honestly like Balthor more. It's such a powerful (though expensive) ability! And yep, it's called An Old-School Nightmare; you may have seen it before? There is also a really awesome old-school Volrath the Fallen deck I see from time to time - highly recommend checking it out if you haven't already!
PAHamster, Plague Spitter seems like it might go really well here. Gloomdrifter, Plague Dogs, and Death's-Head Buzzard also might be useful if you have reiable sac outlets. I use them as dusters in my own deck :)